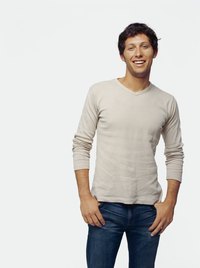 T-shirts have long been a wardrobe staple. However, over the years they've morphed from a simple white cotton shirt to a versatile piece that proves it can do more than be comfortable. Aside from being made in a slimming color or pattern, a few manufacturers have gone so far as to modify fabrics to re-contour the body to look sleek and slim. So, next time you head out to buy your comfort staple, you might want to think about what your T-shirt can do for you.
Look Slim in Black
Slip on a black tee to appear slimmer. Black is universally known as a slimming color, so why not reach for a black tee to pair with your jeans? Further its slimming powers with a mono-chromatic look by matching it with a pair of black jeans. Black doesn't reflect light that creates shadows and reflections like other colors do. Black clothes fit over your curves without highlighting bad angles or lumps and allow you to appear sleek and slim.
Look Trim in Stripes
Play a trick on people's eyes by wearing a tee with horizontal stripes to appear slimmer. You might have previously thought that vertical stripes slimmed your frame, however that's just not so. Horizontal stripes create the illusion of an object appearing slimmer. So, why not purchase a black and white tee with stripes going across your frame to look slim and trim?

Choose the Right Fit
Slim your frame in a well fitting T-shirt that emphasizes the positives in your physique without drawing attention to the negatives. Contrary to popular opinion, wearing baggy clothes will not trim and slim your frame. You'll only add bulk with the excess weight. So, when pulling on a T-shirt to slenderize your midsection, ensure that the shirt outlines your body. It should fit fairly snug with a 3 to 4 inch allowance of fabric when it's pulled away from the sternum or stomach. Also, look for a tee that tapers slightly around the mid-section while falling straight at the sides.
Contour
Invest in a body slimming tee. Redesigning the basic, manufacturers now make T-shirts that double as shape wear to improve posture, compress bulges, and tighten your abdominal muscles. The fabric of these newly designed tees hold in lumps and bumps while preventing your shoulders from slumping back so that throughout the day, you'll walk around with good posture. Your core muscles receive support and a mini workout as you're forced to keep your back straight.