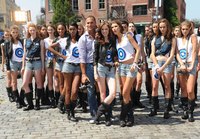 Biker boots and shorts are a trend to try for the tom girl at heart, despite your age. The chunky boot with a shorts outfit is playful and edgy and perfect for an outdoor summer activity that has lots of dirt involved like a country fair, a trip to the zoo or a picnic. You can tailor the look for your age group from biker chick to rugged cute to sophisticated chic.
Biker Boot Outfits: 20's
Music festivals have a new uniform for young women in their 20's -- barely there cutoff denim shorts and chunky black motorcycle boots. This is the age to take the trend to it's edge with a pair of heavy, black, mid-calf height biker-chic motorcycle boots. The kind of boots you would wear to actually ride a motorcycle. The more masculine the better for this look to counter the tiny high waisted cutoff jeans and soft cotton crop-top that completes this young and wild outfit. Don't be shy with accessories. Gemstone-ridden leather wrap bracelets and turquoise earrings add a bohemian flare. Or, stay true to the biker motif and add leather cuffs and chunky silver statement rings. Dark black sunglasses are essential.
Biker Boot Outfits: 30's
Biker boots and shorts keep their stylish appeal but have a hint of professional polish if you trade in a rugged boot and short shorts for a boot with a taller shaft, flatter heel, softer leather and lighter color along with a tailored shorts suit style. Wear a basic black short suit -- a pair of cuffed black shorts with a matching blazer -- styled with a V-neck T-shirt, a long necklace, some chain-link bracelets and a pop of bright lipstick. Wear a flat, mid-calf, soft leather biker boot that has straps and metal detailing in taupe, brown or black with this outfit. This biker boot with shorts combination is still rugged but with a chic-edge that comes with time and earned style sensibility.

Biker Boot Outfits: 40's
Just because you've left your 20's and 30's in the dust doesn't mean you can't seriously rock a pair of biker boots with shorts. To pull off this look, take a hard-core sophisticated approach by wearing a super sexy, light leather, high heeled biker boot with a pair of fresh-off-the-runway, loose fitting Bermuda shorts, a crisp white button down blouse with French cuffs and a pair of black leather mid-calf stiletto biker boots with gold buckles and a cut-out heel. Wear a pair of gold statement earrings to pull out the metal detailing on the boot. Those 20-something year olds have nothing on the style mastery it takes to pull off this look.
Heavy Boots on Hot Days
Sometimes you'll need to wear socks with your chunky biker boots on warmer days. A light, cotton ankle sock is sufficient so that no one sees them. If you're wearing the boots in warmer months with shorts, your feet will get awfully hot, but some of the thick leather motorcycle boots are rather stiff to start out with. The boots will wear in the more you wear them -- eliminating the need for socks.