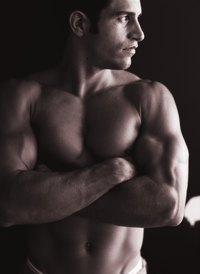 All men are not created equal -- in terms of body shape anyway. Men come in all shapes and sizes, much to the benefit of tailors worldwide. Men that gain fat or have a hard time gaining muscle, for example, might not understand why until they get to know their body types. Getting a feel for the science behind the subject helps them know what to ask for when buying clothes, as well as what to target in the gym.
Endomorphs
Endomorphs have a short, stocky appearance. These guys tend to gain fat very easily, are often pear or cone-shaped, and must rely heavily on calisthenics to stay in shape. Endomorphs, unlike other body types, can't escape the penalties associated with falling off the junk food wagon. Endomorphs can wear black and pinstriped clothing to give their bodies a sleeker, taller look until those trips to the gym begin to pay dividends.
Mesomorphs
These guys are known by their athletic, hourglass shape -- strong chest and lower half with a lean torso -- and are less prone to gain weight than endomorphs. Mesomorphs are good at staying lean and packing on muscle, along with strong bone structure to support a challenging weight and cardio workout program. Mesomorphs can often get away with wearing clothing right off the rack and looking good in the process. However, their broader chests and thighs may prompt them to visit a tailor to get everything in the right proportion.
Ectomorphs
Skinny, ruler-shaped guys in this category have a hard time putting any muscle on, but generally can't get fat quickly either. Ectomorphs don't have to worry much about hitting the stairclimber machine or running too many miles to stay lean. Clothing tends to drape, but ectomorphs can also wear skinny and slim-fitting clothing without fear of a misplaced love handle or other unsightly bulge interfering with the cut.
Getting Centered
Although many individuals strive to "get skinny," it's always good to have the proper balance of fat and muscle. Body types can be sculpted with proper training and nutrition, with the side effect being any of these guys can look good in whatever they wear -- within reason. The ideal is for ectomorphs and endomorphs to look as close to a mesomorph as possible, neither too skinny nor too plump.