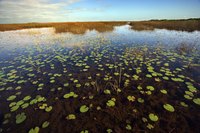 Scuds certainly look like critters who can cause problems in an aquarium. These small shrimp from the genus Gammarus resemble small fleas, darting around the gravel furtively. For the most part, though, scuds benefit an aquarium rather than cause problems.
Scavengers
Though scuds look like fleas, they are scavengers, not parasites. Their diet consists of dead organic matter. In an aquarium, thus, their presence can improve water quality. Rotting material produces ammonia, which is toxic to aquarium life. Scuds consume organic matter, preventing it from rotting. While they are not miracle workers, scuds can help to keep an aquarium clean and healthy by eating organic matter before it gets a chance to rot and pollute the aquarium water.
Not Parasites
Sometimes scuds get accused of preying on or parasitizing fish. These rumors likely started because scuds will eat dead and nearly dead fish. Some aquarium hobbyists likely saw scuds scampering over a dead fish and assumed the scuds killed the fish. However, scuds do not have the ability to harm healthy aquarium fish; they prey on fish that are on their way out. Otherwise, they're scavenging carrion, so to speak, if not simply bits of scattered matter.
Moss
The only real damage that scuds can do to an aquarium is to harm certain aquarium plants. In addition to carrion, scuds eat vegetable matter. In fact, they will help consume hair algae, a pest that most algae-eaters find unpalatable. Scuds may nibble on certain aquarium mosses. However, it's rare that scuds can cause noticeable damage to most aquarium plants, since fish love to eat scuds, and you would need a very high density of these crustaceans to have a noticeable effect on most aquarium plants.
Food
In addition to scavenging and eating hair algae, scuds perform another big service to aquariums. Most, if not all, aquarium fish find scuds delicacies. These tiny shrimp are small enough for just about every fish to make a meal of them. Fish generally regard live food as a treat, since it simulates the kinds of food they eat in their natural habitat. So having scuds thriving in your aquarium can help provide a source of food for your aquarium fish.