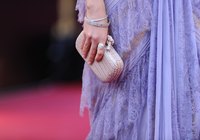 Lavender is a lovely color that works with both gold and silver jewelry. The lightest, softest hue of violet -- a blue-purple color -- is romantic, feminine and reminiscent of flowers, springtime and sweet aromas. The purple pastel has become fashionable, especially in dresses. Your silver or gold jewelry can create a vintage, chic or elegant angle with your lavender outfit.
Jewelry for a Lavender Dress
Wear the pale purple to make a big impact when you walk into a room filled with dark dresses. A lavender lace dress is an elegant and romantic style that is suited for simple jewelry. Either gold or silver filigree is an equally delicate and complementary look for this style of dress. A pair of silver or gold chandelier style earrings or an intricately detailed metal cuff are both elegant accessories for a lavender dress. If you wear an edgier lavendar dress, something with sharp lines or cutouts, choose minimalst metal details such as right-angle hoops or a laser-cut cuff in either silver or gold.
Lavender by Day
Lavender really starts to show up in spring and summer fashions, about the time its namesake flower appears. A pair of lavender silk shorts, a lavendar sleeveless button down or a lavendar floral print sundress are all on-trend ways to incorporate lavendar into your wardrobe. Accessorize these pieces with gold jewelry if you plan to wear other warm toned accessories -- sandals, purse or belt. Opt for silver jewelry if your shoes are taupe or gray. These cooler neutrals are a better fit for tying together silver and a lavender outfit. Sheer lavender pieces are hot and trending for summer and look sweet with pale neutral undergaments -- camisoles, lacy corsets or slips. Wear dainty jewerly -- hoops, thin tear-drops or studs -- in silver, gold, diamonds, or a combination of all three to keep the delicate balance of this look.

Lavender Detailing
Pull lavender into your look and use it on your eyes or lips along with complementing jewelry. For a chick spring-summer eye makeup idea, wear a lavender eye-shadow in the shape of an exaggerated cat-eye with a fair amount of heavy black mascara and gunmetal studs. This is how you add some edge to the quintessential soft appeal of lavender. Lavender shades of lipstick are popping up on the beauty scene. Lavender lipstick -- in not quite plum or pink shades -- is a chic style for a gray outfit with chunky silver statement earrings. Be sure to wear your hair back in a high ponytail or a side swept up-do to amp up the style quotient of this look. A light purple gemstone such as amethyst beautifully pairs with a lavender outfit. Try a chunky amethyst wire-wrap ring and lavender painted nails to pull out the purple tones in a flowy, floral sundress.
What Doesn't Work with Lavender
You get the most out of your lavender pieces by not overwhelming them. As with all pastels, lavender will get lost if you try to wear it with black. Opt for gray or dark brown instead of black. Lavender looks best with other light tones -- ivory, white, taupe or nude -- and understated gold or silver jewelry. Keep your jewelry light and airy to emphasize this cheerful and candy inspired pastel.