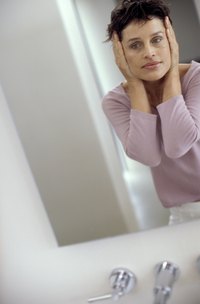 They say an apple a day keeps the doctor away, but did you know that an avocado can save you from a trip to the dermatologist? Avocados are a rich fruit noted not only for their buttery flavor, but their softening and soothing benefits to the complexion as well. Applying it directly to the skin infuses your face with vitamins and and nutrients that will ward off a few pesky signs of aging. Don't worry if slathering on layers of avocado goo doesn't peek your interest, neatly packaged avocado oil make it simple to apply this anti-aging remedy.
Vitamin Rich
Smooth avocado oil onto your skin for a hefty dose of vitamins A and E. Vitamin A is renown for its ability to dramatically reduce the depth of wrinkles, diminish expression lines, produce collagen, and reverse the aging process. On top of that, the vitamin E content in avocados is full of anti-oxidants that neutralize free radicals that damage the skin and contribute to wrinkles. No wonder many anti-aging cosmetics make bold claims about their vitamin content.

Moisturizing Agents
Stay soft and moisturized with avocado oil. Vibrant supple skin is one of the signs of good health. Yet, as skin ages it loses its protective function to retain moisture, becoming scaly, flaky or cracked. Although dry skin does not lead directly to wrinkles, it does emphasize them. You can visually "plump" and re-hydrate aging skin by topically applying avocado oil. Loaded with lecithin, a moisturizing fatty acid, it's an effective solution for flaky skin by either being allowed to sit for as little as 15 minutes or left on overnight.

Sun Protection
Excess sun exposure prematurely ages the skin and induces the onset of wrinkles. Limit your skin's exposure to the harmful UV rays with avocado oil. Massaging it into your skin will aid in blocking the rays of the sun and protect your skin from being destroyed and wrinkle prone in the long run.

Penetration
Not all oils are created equally. Some merely sit on the skin and never get to release their benefits, while others penetrate the skin to deliver outstanding improvements in tone and texture. Avocado seeps through the skin's layers to effectively transport nutrients through the outer epidermis layer to the the inner dermis layer. Your skin will be able to regenerate and you'll notice improved texture.