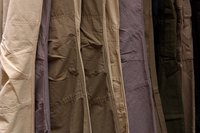 Along with jeans and sweats, khaki pants are a casual wear staple in a guy's closet. Versatile and comfortable, khakis come in different cuts and styles to accommodate a variety of body types. If you have large thighs, you may find pants that fit in the hips and waist are too tight for your quads, and pants that fit your thighs are too baggy and unflattering everywhere else. Find khakis that are cut and constructed to fit and flatter.
Cut
Avoid slim-fit or skinny leg styles of pants, which will look disproportionately small on your calves and emphasize the size of your thighs. Straight-cut khakis are slimming and flatter all figures. The straight line from the hip to the ankle helps provide balance between the upper and lower leg. Look for styles that offer more room in the seat and thighs, sometimes dubbed "classic fit" or "relaxed fit," but make sure they aren't too big in the waist or baggy through the rest of the leg, which will make you look heavier.
Construction
Go for pleated khakis. Although the shift toward flat-front khakis is prevalent, they aren't forgiving for large thighs. Buck the trend and buy pleated khakis, which are constructed to provide you a better fit and help you move well in your pants. Look for pleated pants with cuffs, which are used to anchor the pleats and keep them in place. If your pants fit well in the seat and thighs but are too large in the waist, wear them with a belt or consider having the waist taken in by a tailor.
Color
Try slimming, dark-colored khakis. Although most people think khakis are synonymous with beige, they are actually available in darker colors too, such as black, dark gray, navy blue and dark brown. Darker hues will help slim your thighs and are a slightly dressier way to wear khaki pants.
Brands and Retailers
Find brands and retailers that specialize in khaki pants and offer a large array in different colors, fits and styles to find a pair that works best for you. Look for websites that feature khaki pants and offer special search options that let you narrow your search by cut and style. Some sites offer fit guides as well as big and tall sizes that give you more options.