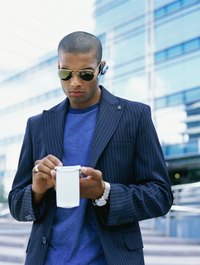 There are several options available for men looking to change up their go-to dress shirt when donning a suit. While a dress shirt is still the most appropriate choice for formal events and professional occasions, you can opt for perfectly suitable alternatives that still work for business or off-hours.
Short-Sleeved Shirts
Try a short-sleeved oxford shirt in place of your usual dress shirt. Defined as a button-up with a collar and cuffs, a short-sleeved oxford has many of the same qualities as a dress shirt. You can sport a professional-looking collar, keep cooler underneath your suit and have greater ease of arm movement. Shirts without visible cuffs are best for casual office environments and more casual events. Short-sleeve button-up shirts are available in a range of colors and prints.
Polo Shirts and Henleys
Opt for a woven polo shirt or a Henley shirt, which lends a casual air to any suit. Appropriate for more casual workplaces and less formal events, keep your look neat and clean by tucking in your polo or Henley. Stick with solid colors or a simple pattern, such as a stripe, and don't mix more than two colors into your outfit for the most streamlined, professional look.
Sweaters and Vests
Consider a fitted sweater under a suit. A crewneck, V-neck sweater or vest looks neat, professional and keeps you warm, to boot. The more adventurous can try a cardigan with a T-shirt underneath for a stylish and modern layered look you can wear to the office or around town. Look for fine fabrics, such as cashmere or wool blends, that will give you the most professional look. Make sure the top is fitted but not tight.
T-Shirts
Wear a T-shirt with your suit on weekends and off-duty hours. Keep your look classic with solid colors or stripes in tones that match or contrast your suit. For a more youthful look, sport a colorful graphic or logo tee underneath a neutral suit jacket and opt for jeans instead of trousers. Make a bold fashion statement by layering a solid color V-neck tee over a contrasting color crew neck T-shirt.