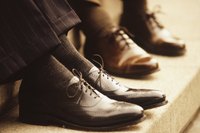 For men -- or women -- who wear socks, a belt and shoes everyday, it's important to know whether or not all three should match or if there's room to play with the rules. Creating a cohesive look doesn't mean every element needs to match exactly -- in fact, they can be polar opposites and still work in the wardrobe department.
Matching Belts and Shoes for Men
For men dressing in business attire, choosing a belt and shoes from the same color family can streamline an outfit. Colors should be similar; for example, chestnut and chocolate can be combined, whereas dark, reddish brown and light tan are too different to be matched, suggests "Esquire" magazine. Wearing a drastically opposing color belt with a different color of shoes can make a suit look less formal and sophisticated. For leather belts and leather shoes, matching the type of leather, for example crocodile or smooth leather, can also cause an outfit to look tasteful versus sloppy. If leathers are in the same color family, such as black, but are different types of leather, like a crocodile belt and suede loafers, the outfit will still boast a tailored and proper business formal feel.
Matching Socks With Shoes for Men
Socks only really stand out when they are a drastically different color or pattern than a suit or pair of slacks and shoes. Some people prefer to make a statement with their style by wearing brightly colored or boldly patterned socks that peek out from underneath their pant legs. Socks don't need to match shoes. In fact, "GQ" magazine notes that attempting to match your socks to your shoes "isn't such a smooth move." Instead, match your socks to your pants if you choose not to use them as bold statement pieces.
Socks, Belts and Shoes for Women
Women's wardrobes have more leeway than men's, especially with accessories like socks, belts and shoes. Depending on the occasion and type of attire, women can mix and match the colors and materials of their accessories. With pantsuits, no rules are set in stone. Belts and shoes don't need to match for less formal occasions. If socks are worn, they can match with the rest of an outfit, or as a personal preference they can contrast with an outfit.
Other Accessories
In addition to coordinating your socks, belt and shoes, adding a scarf or overcoat in the same color family as one piece of your outfit can help bring an outfit together. If an outfit is multicolored, bring out one or two of the colors for a non-competing accessory. For women, a purse or jewelry can have a similar effect. Purse color and fabric don't need to identically match shoes or a belt; a purse can be a statement piece or a complementary accessory.