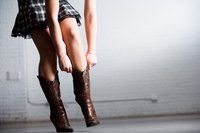 Whether you're a country girl at heart or simply want to kick up your heels in style at the prom, go with cowgirl boots. For this elegant occasion, leave the mud-covered kicks at home. This is an event to show off some high fashion, blinged-out boots. When shopping for the perfect prom dress, keep this uncommon formal footwear in mind. Not all formal dresses pair well with cowgirl boots.
Boot Cuts and Colors
Pick a pair of traditional Western cowgirl, mid-calf height boots. The shaft portion of the boot is usually 12-inches tall with an inch-and-a-half heel, perfect for dancing comfortably. For a higher heel, choose a Western riding boot. Pick out a pair of boots to complement the color of the prom dress. For example, shiny silver rhinestone-encrusted boots look adorable with a pastel pink gown. Or, try freshly shined black leather boots with a black satin prom dress.
Choosing a Prom Dress
The whole point of wearing cowgirl boots with a prom dress is to show them off! Choose a tea-length dress that falls just above the ankles to highlight the decorative toes of the boots. Or, go a bit shorter in a midi-length dress, which lies a few inches below the knees. Feeling daring? Slip into a knee-length or mini thigh-baring prom dress to make the cowgirl boots the focal point of your prom outfit. Dresses with loose, flowing skirts look best with boots.
Staying Comfortable
When wearing cowgirl boots to a formal occasion, slip on a pair of cushioned cotton socks (over panty hose) to avoid blisters or painful rubbing on your toes. Choose a pair of ankle-length socks to keep your comfortable secret hidden below the tops of the boots.
Accessorizing the Look
Tie the Western-style prom look together with a matching clutch or hair accessories. A sequin-covered purse looks great with sparkly boots. Or, choose a colorful leather headband to coordinate with bright-tinted cowgirl boots. Hues such as robin-egg blue or lavender really pop during this springtime formal event.