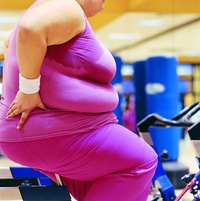 Weighing 400 pounds classifies you as obese, according to the National Heart, Lung and Blood Institute. Although weight-loss surgery is often appropriate for obese individuals who have failed using other weight-loss strategies, diet and exercise are cheaper alternatives. The amount of weight a 400-pound person will lose in one month depends on the type of weight-loss strategy he uses.
Very Low-Calorie Diets
Very low-calorie diets are often use for obese individuals with immediate risks for health conditions, such as heart disease and diabetes. VLCDs generally contain 800 -- or fewer -- calories a day. Weight-control Information Network suggests you can lose up to 5 pounds per week, or 20 pounds in one month, using VLCDs. However, due to potential risks associated with very low-calorie diets, such as nutrient deficiencies, nausea, diarrhea and gallstone formation, they are only appropriate when used under medical supervision.
Low-Calorie Diets
Diets containing 1,000 to 1,600 calories a day are often classified as low-calorie diets, or LCDs. While 1,000- to 1,200-calorie weight-loss plans are usually effective for women, 1,200- to 1,600-calorie diets are often effective for most men, Weight-control Information Network suggests. When following a reduced-calorie diet for weight loss, aim to lose 1 to 2 pounds per week – or up to 8 pounds in a month -- suggests the Centers for Disease Control and Prevention. This rate of weight loss is safe for obese individuals, with or without medical supervision.
Weight-Loss Surgery
Although weight-loss surgery comes with risks, individuals who weigh 400 pounds may benefit from undergoing bariatric surgery. After weight-loss surgery, the University of Michigan Adult Bariatric Surgery Program reports the average weight loss is 5 to 15 pounds per week, or 20 to 60 pounds in the first month. However, drawbacks – such as hair loss and nutrient deficiencies -- can occur with such rapid weight loss. The University of Maryland Medical Center notes that mortality occurs in 1 out of every 200 patients who undergo weight-loss surgery. Therefore, talk with your doctor to determine if bariatric surgery is right for you.
Exercise
Adding physical activity to your weight-loss program can enhance weight loss and help keep lost weight off long term. Safe but effective initial workouts for 400-pound individuals include low-impact exercises, such as light resistance training, swimming, water aerobics, walking, biking or using an elliptical machine. Start at a low intensity for short durations, maybe 10 minutes at a time, and work up to exercising 45 to 60 minutes, five to seven days per week, suggest authors of a review published in a 2009 issue of "The Ochsner Journal." Always obtain your doctor's permission before beginning a new workout program, especially if you weigh 400 pounds.