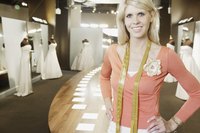 Sitting at a desk all day can make it hard to lose weight. In fact, studies now show that sitting for long periods of time, particularly for women, can be pretty harmful to your health. So what can you do to lose weight at work? The same thing you would do when you're not at work: eat less and move more. It's not very hard if you're motivated. There are actually a lot of different ways to include more movement and fewer calories in your daily work schedule.
Pedal While You Work
A small study published in the "British Journal of Sports Medicine" found that people who work sedentary desk jobs can burn a few calories by pedaling on a portable pedal exerciser that fits under the desk. Over the course of four weeks, the female participants in the study -- most of them in their 40s -- burned an average of 180 calories a day, although some burned as many as 500 calories a day. The point is, pedal exercisers are a convenient and discreet way to burn fat on the job. How many calories you burn depends on how often and how long you decide to pedal.
Make Your Steps Count
A study published in the "Canadian Medical Association Journal" found that people who took the stairs not only made it to their destination faster than they would have had they waited for the elevator but also increased their fitness levels in the process. Anytime you move your body, you're burning calories, so if you have the option to take the stairs or the elevator, choose the former. If you drive to work, choose a parking spot a little farther from the door. Walking is one of the easiest and most effective ways to lose weight, according to the Centers for Disease Control. In fact, even a brisk, 10-minute walk is considered exercise. Try to fit a short daily walk into your lunch and break times.
Snack Smartly
Desk jobs and snacking often go hand in hand – and that doesn't bode well for your waistline. If you must eat at your desk, avoid snacking from boxes, bags and other packaging because you're more likely to consume more than a single serving. Instead, place a small portion on a plate and put the rest away, suggests the Academy of Nutrition and Dietetics. Better yet, pack your own lunch in containers or baggies, which gives you greater control of what and how much you eat during the day. And when it comes to beverages, steer clear of the vending machine. Sugary sodas and other soft drinks can pack on the pounds faster than anything else. Researchers from Harvard School of Public Health found that sugary drinks are a major cause of obesity, regardless of hereditary factors, but especially among people who are genetically predisposed to being overweight.
Get Coworkers on Board
Get some support. A study published in the "Archives of Internal Medicine" shows that people who exercise together lose more weight than those who don't. So grab a coworker or more to share healthier meals at lunchtime or take walks together. Some employers also offer workplace health and fitness programs. Find out if yours does and sign up. If not, you might consider asking your employer to introduce one.