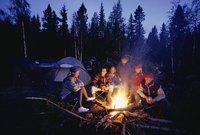 Lake Gregory, with 84 acres of water, rests between the much bigger Big Bear and Silverwood lakes. But the smaller lake attracts those who like to fish and otherwise enjoy the water without motorboats and skiers roaring and zipping by. Surrounded by California's San Bernardino National Forest, the trout lake has swim and picnic areas and boat and paddleboard rentals. An easy -- and dog-friendly -- trail around the lake takes hikers up through cedar and pine and down to water's edge. It sits at 4,500 feet in the alpine-themed hamlet of Crestline, where fresh, pine-scented air, refreshingly lower temperatures and nearby campgrounds welcome city-weary visitors from below.
Camping in Crestline
Most streets in Crestline lead up or down -- few are flat. Camp Switzerland is across the highway and down the hill from the lake, tucked among the pines. The only campground in Crestline -- although there are many cabin rentals -- this privately owned, rustic but clean and quiet camping area is about a five-minute walk from Lake Gregory. Shrubbery provides some privacy between campsites, which accommodate tents and RVs. Campers use coin-operated showers and restrooms. If you want a campfire, bring an outdoor fireplace or barbecue. Or rent one at the campground. While Lake Gregory has a dog beach and dog-friendly trail, Camp Switzerland only allows small dogs, based upon approval. Use the contact information at the camp's website to get the latest updates and to make a reservation.
Nearest to Crestline
Several campgrounds within an hour's drive of Lake Gregory, including those at Big Bear Lake and Silverwood Lake, are listed on the San Bernardino National Forest website. If you're spending your days at Lake Gregory, however, you might want to camp as close as you can to the lake. An alternative to Camp Switzerland, Dogwood Campground is about 15 minutes east of the lake and is open from May through October. Named for the mountain flower, Dogwood is shaded by pines and firs. A tents-only camping area and an RV area comprise the campground's 87 sites. Enjoy a campfire at night thanks to the fire pits at each campsite. Ranger-led interpretive programs, camp hosts, RV hookups, hiking trails, drinking water, hot showers and flush toilets add to the appeal. Dogs are welcome on leashes.
Not Much Farther
San Bernardino National Forest's North Shore Campground sits near a trailhead for a hiking and biking trail that circles Lake Arrowhead. A private lake that only allows residents and guests, the lake also has a public village with restaurants and shops. The North Shore campground is about 20 minutes east of Lake Gregory. The small campground has 13 tent sites and nine standard RV sites. Campers get picnic tables, campfire rings and flush toilets, but no showers. Reservations can be made online for April through early October.
Activities
Camping is a fun activity itself, especially when it involves a crackling fire, s'mores and sleeping under a blanket of stars. At Lake Gregory, children dash to the swimming beach where they can splash into the lake from the water slide. Young and old rent peddleboats, sailboats and paddleboards -- which they paddle like surfers do, only there are no waves, just the cool water under the undiluted mountain sun. Enjoy a leisurely hike along the lake. Look for squirrels and bluejays, and spy mallards on the water and blue heron at water's edge. At dusk, look for soaring osprey that dive down to pluck fish from the water. If you want to catch your own, Lake Gregory is stocked spring and fall with rainbow trout. Catfish, bass, panfish and brown trout also swim here. Anglers rent rowboats, bring floats and cast from shore. There's no fee to fish, but a California sport fishing license is required and can be purchased online or at a sporting goods store. You can fish at Lake Gregory sunup to sundown year-round. The boathouse on the south shore, open April through October, sells bait.
Considerations
Boat and paddleboard rental fees, gated parking and swim beach fees are posted on the lake's website. The San Bernardino National Forest supports a wide diversity of wildlife, including black bears. Store food and other scented items in bear-proof containers and never in your tent. Dogs should be leashed for their own protection. Lake Gregory and its nearby campgrounds all sit at about 5,000 feet elevation, where summer daytime temperatures averaging 75 to 81 degrees Fahrenheit drop after sunset to about 40 to 50 degrees. Bring layers of clothing, but don't forget the swimsuits.