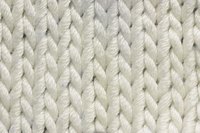 Fabric selection and construction of sweaters are the reason why some sweaters are cheap and some are expensive. A handmade sweater knitted or crocheted with animal fibers such as wool will usually be more expensive and last longer than a machine-made sweater made from synthetic-fibers. Knowing what to look for in both handmade and commercial sweaters will help you choose wisely.
Fiber Choices
The right yarn makes all the difference between a scratchy sweater and a soft one. The fibers used to make yarn fall into three main categories: animal, plant and synthetic. Animal fibers such as wool, alpaca, angora and cashmere produce warm sweaters that will last a lifetime with proper care, but some people are allergic. Plant fibers, which include cotton, linen and hemp are sturdy, soft and itch- and allergy-free. Synthetic fibers such as acrylic and novelty yarns are inexpensive but tend to pill over time.
Knitting vs. Crocheting
Sweaters are either knitted or crocheted. The former requires two needles; the latter uses a single hook. Knitting and crochet tools are not interchangeable, and the fabric they produce does not look the same. Crochet is ideal for lace sweaters, but it uses significantly more yarn than knitting and therefore creates a thicker, denser fabric. The vast majority of sweaters you'll find in stores are knitted, usually by machine. Mass-produced sweaters usually have serged seams, which means the manufacturer cut the fabric and sewed it back together with thread. Handmade sweaters will have seams sewn with yarn, which means the fabric hasn't been cut.
Decorative Stitches
When it comes to making unique sweaters, the stitching is the key. Sweaters with knitted designs usually use a technique called Fair Isle, in which the knitter (or knitting machine) uses two or more colors of yarn simultaneously. Sweaters with a single design on the front use a technique called intarsia. In general, Fair Isle sweaters are thicker and warmer than intarsia. Knitted sweaters often feature cables, which look like braids worked into the design. Lace sweaters are usually crocheted because the process lends itself to creating curved lines or circles. The chaining technique in crochet makes the holes in the lace.
Caring for Sweaters
How you wash and dry your sweater depends on the fiber. Always wash animal fibers by hand to prevent the sweater from turning into felt. Heat and agitation are animal-fiber sweaters' nemesis. Use cold water and detergent formulated for knits to extend their life, and always air-dry them flat. Plant-fiber sweaters are machine-washable. Use the gentle cycle, cold water and mild detergent, and dry them flat just like animal-fiber sweaters. Synthetic sweaters will withstand washing and drying in the machine, but for best results and longest life, allow them to air-dry. Contrary to popular belief, dry-cleaning isn't the best way to care for your sweaters. Hand-washing will give them the longest life.