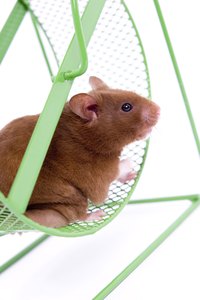 Syrian hamsters come in a wide range of coat colors and patterns. When selecting this pet, you can choose the appearance that most appeals to you. The four most common coat types of Syrian hamsters feature long hair, short hair, lots of shine and wavy kinks.
Shorthair
Syrian hamsters with a short coat, which is the most commonly found variety, have soft fur that is even and flush with the body. Certain distinct breeds, including the panda bear and black bear hamster varieties, all possess short-haired coats that are distinguishable only by their color and patterns. The panda bear hamster, for example, sports a black and white coat. The more common golden hamster, on the other hand, has a short, golden-brown coat.
Longhair
Long-haired Syrian hamsters, often referred to as teddy bears, have long, fluffy coats that come in a wide variety of colors, from the very common brown and white pattern to all white or even dark gray. The coat is soft and a male long-haired hamster will almost appear to be wearing a skirt as his hair extends past his hindquarters. The male long-haired hamster's coat can be as long as 4 inches.
Satin
As the name implies, the satin-coated Syrian hamster appears to have a glossy sheen to its appearance. The coat is smooth and thick and comes in a large spectrum of patterns and colors. The hair shafts on a satin-coated hamster are mostly hollow, causing the hair to reflect light, leading to its shiny look.
Rex
Syrian hamsters that fall under the rex-coated variety have thick, short, wavy hair that almost looks as if it has been crimped to achieve a kinky appearance. The frizzy coat of a rex hamster comes in all different colors and can have either short or long hair.