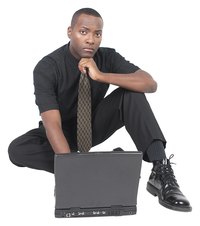 Black is ubiquitous in fashion. It's universally appealing, instantly slimming and easy to wear. Monochromatic black makes a bold statement, but sometimes you just want to put on a dressy black shirt without going monochromatic. Deciding on the best pants to wear with it depends on where you're going and what sartorial statement you want to make.
Dressy Black Shirts
Colors have symbolic and psychological meanings. In "Colors for Your Every Mood," Leatrice Eiseman writes that black evokes a range of feelings wider than any other color: "To some, it is sinister and eerie; to others, the height of sophistication. At various times it is described as foreboding and funereal; magical or mysterious; suave, sexy, or sober; powerful or pretentious; practical yet glamorous. But always it is a presence not to be ignored."
The most common options for men in dressy black shirts are matte and shiny finishes. In his book "Style and the Man," Alan Flusser notes: "The smoother and more lustrous the fabric, the dressier the shirt." Black dress shirts ought to have traditional pearl buttons or at least clear plastic ones. Wooden or black buttons are more casual. Spread collars are considered dressier than regular point collars.
Black Shirt, White Pants
The pants you pair with the shirt depend upon the season and setting. White cotton or linen slacks look good with black dress shirts and are a natural dressy-casual choice in warm weather. This type of black-and-white -- also called "spectator" -- ensemble is appropriate for casual Fridays at work, weekends and parties. Crisp, bright white pants look better with a black shirt than a cream or other off-white color, which can appear dingy with black.
Black Shirt, Black Pants
Black trousers naturally complement black shirts. Black on black is an appropriate look for dressy-casual evening events or anytime during colder seasons. The fabric should be appropriate for the season, such as corduroys and similarly heavy textiles in winter and lightweight wool blends in summer. Contrary to popular belief, the blacks do not have to be exactly the same shade. A black belt and black shoes make the outfit dressiest.
Black Shirt, Gray Pants
Like black, gray is a power color, and the combination of gray trousers and a dressy black shirt can be debonair. Paler hues of gray such as dove and glacier are more appropriate for spring and summer. Steel, charcoal and other darker shades of gray can be worn in every season. Cotton blends and lightweight wool are good fabric choices for summer pants; cold weather calls for trousers of heavier fabric such as flannel and suede; worsted wool can be worn comfortably in any season.
Cautions
Jeans and cargo pants are too casual to wear with a black dress shirt. Pants in loud colors such as red or busy patterns such as plaid paired with a black dress shirt also send a casual message. Black can and usually does fade over time. Instead of washing your black shirts, dry clean them to preserve the color longer. For storage, fold them loosely or hang them on wooden rather than wire hangers to help prevent stretching or hanger marks and to preserve shape. Light-colored lint can ruin the look of a black shirt, so a lint brush or sticky roller is a wise investment. You want nothing to detract from the black dress shirt's declaration of strength and elegance.