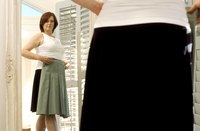 When the weather is cooler, wearing your favorite skirt with a pair of tights is a good way to keep warm and look stylish. If you're plus size, though, you may be a little bit apprehensive about showcasing your legs in that kind of outfit. Fortunately, you still can rock a skirt and tights combo no matter what size you wear -- it just takes the right styles, patterns and colors to help create the most flattering look possible.
Go Monochromatic
While you may be tempted to create a contrast between your skirt and tights, you're actually better off choosing the same color for both -- especially if you have a pear-shaped body where your lower half is larger than your upper half. Going for a monochromatic look for the bottom half of your outfit creates the illusion of longer legs so you look taller and leaner. Make sure that your shoes match your skirt and tights too. If you really want a slim look, you also can match your top to the rest of your outfit for an especially elongated look.
Choose Dark Colors
Even if you don't choose the same shade for your skirt and tights, you can create a longer, leaner silhouette for yourself by choosing dark colors for both. Dark shades like black, navy, chocolate brown and charcoal are slimming, whereas lighter shades tend have a widening effect. White tights can be especially unflattering, particularly when paired with a dark skirt. You can mix colors for your skirt and tights and still get a slimming effect if both are deep shades. For example, pair a black skirt with maroon tights or a navy skirt with hunter green tights.
Go Tailored
When you're choosing a skirt, avoid full styles like a circle skirt that add volume to your lower half. These will only make you look heavier and wider. Instead, opt for a tailored skirt that flatters your body shape. If you have an hourglass figure with your weight equally distributed between your top and bottom, go with a pencil skirt to flatter your curves. However, if you tend to carry more weight in your lower half, an A-line style will skim the body instead of hugging it.
Opt for Vertical Patterns
Patterned or textured tights can instantly spice up a solid top and skirt, but you may leery of wearing them if you're plus size. Don't be -- you can rock a fun pair of patterned tights as long as you choose the right pattern. Look for vertical designs that help elongate the look of your legs for a slimming effect; vertical stripes are an ideal option. Another variation to try is textured tights. Since they're all one color, they won't draw too much attention to your legs, but they'll still add visual interest to your outfit. Try a simple ribbed style for a basic look or a sophisticated herringbone design for a more interesting, trendy vibe.