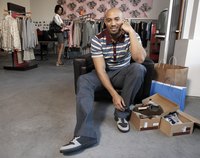 Nikes have become a popular shoe choice for both the active and the fashionable. Knowing what jeans to wear with your pair can make a difference in the way you look. Whether you prefer skinny jeans, loose-fit or a classic cut, there's a good chance the jeans already in your closet will work great with your Nikes.
Skinny Jeans
Nikes go perfect with this slim-cut leg. The low-cut shoes will provide less height than other shoe styles, which can elongate you and give your legs a too-thin appearance. If you want to try out this jean style but don't know where to start, choose a low-rise option if you're extra thin. Additionally, the tighter fabric near the ankles is great for showing off your new shoes.
Classic Jeans
These 5-pocket, straight leg classic jeans are a simple staple with Nikes. With less fabric than loose-cuts, this style will help you appear leaner, while still displaying your Nikes. Finding a comfortable pair of classic jeans is a necessity for everyone with and without Nikes because classic jeans are great for most body types.
Loose-Fit Jeans
Loose-fit jeans are similar to classic and are a casual option that goes well with your laid-back Nikes. If you're a bit stockier, these pants have extra fabric to make them baggier. Try a loose-fit in a dark wash to keep the comfort while appearing more slender. The dark color creates an optical illusion, especially when a similar color is worn head to toe. This allows the eye to see one long length, instead of a short and stocky body.
Tips
With skinny jeans as the exception, most jean styles should hit your shoe near the bottom of the heel. If your pants hit higher, it can make your legs appear shorter than they are. Most shorter jean styles such as capris or shorts go well with all shoe styles and would work well with your Nikes.