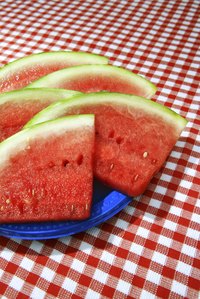 Winterville, North Carolina, is located in the north central coastal plain region of the state in Pitt County, about 85 miles east of Raleigh. One of the county's main crops is the watermelon, which is grown locally during the warm months of the spring and summer. Every year, Winterville caps its growing season, usually around the end of August, with a festival celebrating the native plant. The festival is highlighted by music, games and an intensely competitive watermelon eating contest. The festival is held in downtown Winterville, while the concert is held at the Winterville Recreation Park.
Events
The festival lasts for three days, from Thursday to Saturday. Events on the first two days run from early evening to late at night and, on Saturday, from early morning until the end of the nighttime concert. The festival includes amusement rides, bingo and a number of watermelon-themed events for children, including a watermelon seed spitting contest, a watermelon roll contest and a watermelon coloring contest. Adults can enjoy a craft show, a classic car show, a flea market, a veteran's appreciation breakfast and a parade. The watermelon eating contest -- a highlight of Saturday night -- is divided into youth and adult divisions, with a winner crowned in each.
Musical Lineup
Although Winterville is a small town, home to fewer than 10,000 permanent residents, it has traditionally succeeded in booking big acts for its Friday and Saturday night concerts. In 2011, for example, the headlining act was national country music recording star Rodney Atkins. Backing him up was a reinvigorated lineup of the classic Motown group, the Temptations. Local musical acts also appear.
Concert Info
If you're planning on attending the concert, be aware that you must purchase a ticket and that admission is general -- first come, first served. The concert is held outdoors, and you are encouraged to bring a regular-sized folding chair, but not a blanket, as this will take up too much ground space. In the event of rain, you are not allowed to use an umbrella, so be prepared with a poncho. Also, neither food nor drink may be brought to the concert. Food -- including watermelon -- is sold at the venue. Seating for persons with disabilities -- provided in the general admission area -- is limited and available on a first-come, first-served basis. It is reserved for one guest and one companion, each of whom must have a ticket.
Additional Info
Visitors in need of lodging can stay at the Hilton in nearby Greenville, which, as the official hotel of the festival, offers special room rates for festival attendees. Parking near the festival site is limited, but there are other spots in town. In addition, the athletic department of A. G. Cox School parks cars at their complex near the festival grounds for a small donation. Throughout most of the festival, children's amusement rides cost slightly less than adult rides. On Thursdays and Fridays a wristband can be purchased for a flat fee and will secure unlimited rides until closing.