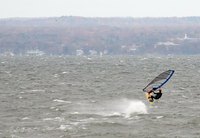 Wildwood State Park, in Wading River, New York, covers 600 acres of hardwood forest overlooking Long Island Sound. Visitors to the park, 75 miles northeast of Manhattan in Long Island's Suffolk County, can swim at the beach, and enjoy fishing, hiking, camping and many other outdoor activities. The region surrounding the park is home to a range of attractions, including wilderness areas, marine and animal exhibits, and kids' parks.
Hiking Trails
Brookhaven State Park, 6 miles southwest of Wildwood in Ridge, has 25 miles of hiking and nature trails through forests and wetlands. Foliage in the park, which covers more than 1,600 acres, includes flowering dogwood, wild geranium, Christmas fern and pitch pine. Another good place for hiking is Rocky Point State Pine Barrens Reserve, 10 miles southwest of Wildwood in Rocky Point. The reserve has hiking trails through oak and pine forest that range from 6 to 8.5 miles in length.
Marine and Animal Exhibits
The Long Island Game Farm Wildlife Park & Children's Zoo, 14 miles south of Wildwood in Manorville, is a natural environment where families can learn about animals through shows and exhibits. The farm features camels, lemurs, zebras, ostriches, kangaroos, alligators and many other animals you can feed with food purchased in the park. The Long Island Aquarium and Exhibition Center, 10 miles southeast of Wildwood in Riverhead, features interactive exhibits designed to teach the importance of marine life. Indoor exhibits include the Lost City of Atlantis Shark Exhibit, the Amazon Rainforest and Poseidon's Treasure Room. Outdoors you'll find the Sea Lion Coliseum and Penguin Pavilion.
Kids' Parks
Splish Splash Water Park, 6 miles southeast of Wildwood in Calverton, has nearly 100 acres of wave pools, tube slides, body slides and other water attractions. Older kids may want to try Dr. Von Dark's Tunnel of Terror, a tube slide with a 40-foot drop in the dark. For younger children, the park has Pirates Cove, an interactive pirate ship with water cannon and slides, and Monsoon Lagoon, an interactive shipwreck area. Boomers, 17 miles southwest of Wildwood in Medford, is a family fun park with go-carts, miniature golf, bumper boats, batting cages and other activities. Kiddie rides include a family coaster, carousels and spinning teacups.
Other Attractions
Riverhead Raceway, 7 miles southeast of Wildwood in Riverhead, is one of the oldest stock car racetracks in the U.S. Built in 1949, the track is a quarter-mile high-banked oval that includes a figure-eight course. The raceway is part of the NASCAR Whelen All-American Series circuit and features five or six racing divisions every Saturday night. Vail-Leavitt Music Hall, also in Riverhead, was built in 1881 in the style of the Ford Theater in Washington, D.C. The theater screened early talking films by Thomas Edison and serves today as a venue for plays and concerts.