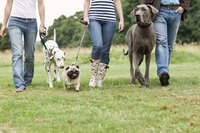 You might find it odd if your furry friend doesn't gaze into another dog's eyes, but dogs don't generally make direct eye contact with each other. What he does with his eyes says a lot about how he's feeling. By reading the rest of his body language, you should be able to determine exactly what's on his mind.
Submission
When Pepper refuses to make eye contact with another dog that you introduce him to or when he squints at the new pup, he could be showing submission. You'll notice that he crouches to the ground, rolls over on his back and possibly loses a little urine when the dominant dog is nearby, reports the Merck Veterinary Manual. He's letting the other pooch know that he recognizes his role as the less powerful dog in the relationship and is backing down with no conflict.
Fear
Maybe your beloved pal had a bad experience with a bigger dog in the past, so now he's just afraid of any dog who is taller than him. It's also possible he was never properly socialized with other dogs and he's fearful of them all now. Either way, avoiding direct glares with other canines might signal that he's feeling scared. His eyes may appear fully dilated and especially large if he feels threatened, according to WebMD. You could even notice that he starts quivering and keeps his tail between his legs.
Guarding
If you recently gave Pepper a brand new bone or filled his bowl with his dinner, he might refuse to look at the other dog in your home while he's guarding his prize. Rather than looking at Molly, he'll hang his head low and glare at her from the corners of his eyes. You'll predominantly see the whites of his eyes when you look at him. He's signaling to her that if she comes near his possession, he'll snap at her -- it belongs to him, after all.
Additional Visual Cues
If you do happen to see Pepper staring directly into another dog's eyes, he's displaying aggressive behavior. He's confronting the other pooch and trying to challenge him, explains Lori Smith, kennel manager at Caring Hands Humane Society in Kansas. However, if he's looking at the new dog and blinking slowly, he's letting the pooch know he isn't willing to give up his more dominant role, but doesn't want to fight for it.