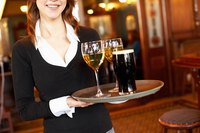 According to the Occupational Health and Safety Administration, slips, trips and falls account for 15 percent of accidental deaths in the United States. OSHA requires that employers maintain a set of standards, but the best way to protect yourself on the job as a waitress is to invest in a good pair of shoes.
Safety
Messes happen in a busy kitchen, and waitstaff move quickly between the dining room and kitchen to accommodate their tables. Avoid a debilitating injury by purchasing a pair of shoes with a "no-slip grip" sole. This is usually made out of rubber and may be several inches thick. Shoes with straps are preferable to those with strings, because they eliminate the possibility of tripping. Waitresses should also wear shoes that cover their entire foot -- no sandals -- to prevent injury from falling objects.
Comfort
Waitresses who do not take the comfort of their shoes into consideration may find themselves suffering from blisters, bunions, stiff joints and lower-back problems. Serving tables requires you to spend several hours on your feet. Look for properly fitting shoes with adequate arch support. Purchase gel inserts to provide some additional cushioning.
Dress Code
Your employer may have a specific set of criteria for the footwear they want you to wear on the job. Some may allow tennis shoes, but in more formal restaurants, black dress shoes may be required. Employers reserve the right to enforce whatever dress code they think appropriate and may demand that you wear heels or other unsafe or uncomfortable footwear. Take this into consideration when applying for serving jobs. If you fall and injure yourself, report it to your employer and ask that they keep a record of the incident.
Where to Shop
Many shoe stores have a "work" section with footwear that is specifically designed for professionals who spend a great deal of time on their feet. You can also visit a specialty store or search online. Nursing shoes are generally very comfortable and are available in a variety of colors and styles.