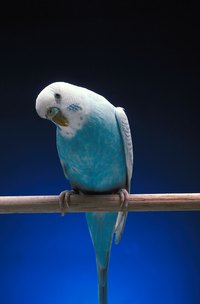 Knowing what age to adopt a parakeet is one of the most critical questions to answer. Typically, younger birds are the most sought after, but older parakeets can bring just as much companionship and love to the right family.
Age Window
Younger parakeets, or budgies, are easier to tame than older ones. It is, therefore, generally recommended that you not adopt untrained parakeets that are older than four months. The ideal age to adopt is when parakeets are at the close of their weaning stage, which is six to seven weeks of age. It pays to know the physical signs of a parakeet's age, such as markings, to be sure how old he is.
Head Feathers
There are several varieties of parakeet, but most varieties within the prime adoption age will have bars on their heads down to the cere, the flesh spot where the beak meets the head. After molting at about three to four months of age, the feathers on the top of the head will be solid-colored, typically white or yellow. Some varieties, such as lutino or lacewing, however, have no such tell-tale feathering.
The Eyes
A second way to determine a young parakeet's age is his eyes. Up to the age of four months, a parakeet's eyes are black, but as he ages, the irises fade to light gray or a brownish color. From four to eight months, his eyes will have dark gray irises. At eight months, the irises will settle to their permanent color. Know, however, that albino parakeets will always have reddish-pink eyes, no matter the age.
Older Birds
While newly weaned parakeets are typically the most recommended, don't dismiss older parakeets, particularly ones that have been socialized. Young birds learning to socialize or even fly can be hard to handle and generally require a lot of patience and attention. This can be especially taxing on first-time owners. Older parakeets that may have lived with other families or even been through some kind of trauma often adapt well to new parents and form lasting bonds.