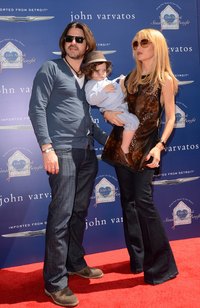 The cardigan sweater goes from morning to night with the switch of a shirt. Styles ranging from chunky and textured to thinly woven and velvety smooth grace the closets of men who want to add a touch of class to their wardrobe. A blue cardigan, in particular, has become a wardrobe staple thanks to its styling and versatile hue.
Collared
There are a variety of ways for a man to pair a blue cardigan sweater with an Oxford shirt. The first is with a button-pointed, collared shirt that is well-tailored and wrinkle-free; it can be worn with or without a tie. Colors can be solid -- white, light blue, gray or yellow -- or patterned, such as plaid or striped. Alternatively, pair a blue cardigan with a more casual option, such as a short-sleeved, button-down shirt that features an abbreviated spread collar. Repeating paisley patterns or chunky stripes, for example, mix up the classic cardigan with a bit of whimsy.
Patterns
Virtually every patterned shirt can complement the open or closed solid-blue cardigan. The key to wearing patterns is to know your individual style. A reserved man might feel more comfortable in stripes, a checkered pattern or gingham, versus a loud Hawaiian print. Those who pounce on wilder fashions might run toward a trendy animal or bandana print. The key to wearing patterns is to make sure the shirt is not so busy it distracts from your face.
Dressier Options
Perhaps the dressiest option under a blue cardigan is a button-down shirt and bow tie or slim neck tie. The bow tie looks ultra stylish with slim-fitting pants or jeans and slip-on loafers or wing-tip shoes -- sans socks. The tie should complement the cardigan's blue hue, but it's also important that it is in proportion to your face and shirt collar. Coordinate the blue sweater, shirt color and tie texture and pattern with each other for a look that appears smart and effortless -- even though it probably wasn't.
T-Shirts and Henleys
Blue cardigan sweaters pair nicely with a solid-colored T-shirt in white, red, yellow, gray or pink. To add a punch to your outfit, wear a bright solid-colored or graphic T-shirt underneath. A Henley shirt is a collarless, pullover shirt, usually with a few buttons at the top, that looks good when worn between the T-shirt and cardigan. This layered look adds interest to your outfit and also provides a shield when the weather turns cold. Just make sure your Henley is slim and your sweater is a little thick to avoid unsightly shirt bulges.