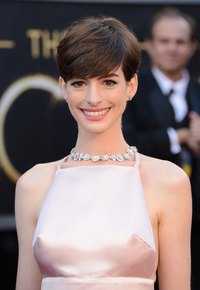 When you've got a fair complexion and brunette hair, your goal in pulling together beautiful looks typically includes choosing colors that bring a healthy glow to your face. While the strong contrast between your tresses and skin tone means certain super-light hues may lead to a "washed out" appearance, pale pink is no such offender. With some tips and tricks to styling around a pale pink dress, you can make this soft look work for you.
Choose Embellishment
Wearing a pale pink dress against pale skin and dark hair can result in a barely-there frock appearance. To avoid the look of a dress that blends right into your skin, look for a garment with embellishment to add depth to your ensemble. For example, flower appliques, ruffling or jewel detailing casts shadows for a dress full of varying shades of pale pink and extra dimension, combating the gentle hue. You may also create this illusion by adding a bejeweled belt, brooch or necklace to an unadorned dress.
Match Your Skin Tone
One key to choosing a pale pink dress that works for, rather than against, your fair complexion is matching your skin tone appropriately. Match your skin tone to the tone of the dress by determining whether you have a cool or warm undertone. The simplest test is to look at your inner wrist. If the veins look blue, your skin tone is cool. If the veins look green, your skin tone is warm. For a cool complexion, choose a pale pink dress with blue undertones, or one that has an icy appearance. For warm complexions, choose a dress with reddish orange undertones, or one that looks like it has a peachy cast.
Face Framing and Fresh Makeup
Framing your face and wearing fresh makeup help balance your ethereal look when you wear a pale pink dress. To avoid becoming "lost" in the ensemble, wear short hair with bangs draped softly across your face; wear longer hair down and forward over your shoulders rather than in a pulled-back style. For makeup, avoid a too-bare face or overdone makeup which can look too harsh with your coloring. Instead, choose soft colors, such as lavender or taupe for your eyes, followed by black mascara. Soft pink blush and a sheer pink gloss in the same tone as your dress will keep your face looking illuminated.
Add Black
Adding black to your wardrobe mirrors the dark hue of your hair and helps balance your look if the shade of pale pink you choose is extremely close to your natural skin color. To create this contrast, add black flats and a black blazer or cardigan to a casual dress. For a dressier look, cinch your waist with a black belt, add black, opaque tights and black pumps. Throw in a black clutch to finish the look.