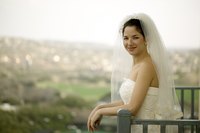 The list of wedding decisions can seem endless: the menu, dress, location, music, bridal party, rehearsal dinner, reception and honeymoon are important details that need to be determined. The last thing you want to worry about is your hair. Many women try to grow out their locks anticipating a complicated updo or cascading curls, but medium length hair can manage equally elegant dos. If you are planning to wear a veil on your big day and have medium length hair, you'll need to consider the style of veil and its placement when choosing a bridal hairstyle. By following some simple guidelines for medium length bridal hair, you'll look timeless and beautiful wearing your wedding veil.
Cage Veil
Women with medium length hair can play up their cropped cut with a 1950s inspired cage veil. The short style of this veil accentuates a chin length bob worn smooth and straight or in romantic curls. Ladies with locks that are around collar bone length can pair this retro-style veil with loose waves worn down for a soft, face framing look. If you'd rather wear your hair up, keep it simple. A low, sleek chignon balances out the fullness on the top and doesn't overpower the ornate veil. Always wear a cage veil at the crown of your head so the netting hits between your nose and your mouth rather than covering your entire face.

Long Veil
Those who grew up dreaming of the iconic long, tulle veil should consider donning their medium length hair in an updo. Hair that's not long enough to shape into an elaborate coif looks just as polished pulled back into a low bun or classic French twist. Because this style of veil is so simple, flowers or ornate hair pins can be added into the hairdo to personalize the look and add a touch of sparkle.

Fingertip Veil
Nothing enhances medium length bridal hair better than a medium length veil. Voluminous curls look chic and glamorous under a fingertip length, tulle veil. Wearing your hair in a half up, half down style shows off your face and allows your hair to cascade freely over your shoulders. An alternative way to fashion your mid length veil is by tucking it into the top of a simple bun worn at the nape of your neck, making your face the focus of the look.

Short, Layered Veil
Shoulder length veils with two tiers look divine with just about any hairstyle, so brides who worry about how to style their medium length locks under a veil needn't fret. The layers are designed to add lots of volume, which results in a fun modern look that can be worn with the hair left down or atop an intricate updo. Petite women should make sure this ample style doesn't overwhelm their small frames and wear their hair in a sleeker style to balance the extra volume.