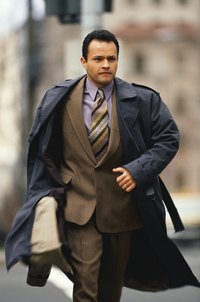 If there was a tacit sartorial dictate stating that a man's trench coat must match his suit, an appearance-conscious gentleman would be left with just one choice: wearing only suits the same color as his trench coat on days with a wet or chilly forecast. Trench coats have evolved since British soldiers first started wearing them during World War I. And acceptable color options that deviate from the original khaki canvas have changed over time.
The Basics
For proof that a man's coat needn't necessarily match his suit, turn to the online catalog produced by Brooks Brothers, the trusted bastion of blue-blooded business attire since 1818. Brooks Brothers sells its signature trench coats in khaki, but it markets navy blue and cream-colored trench coats as well. According to the options showcased in the Brooks Brothers virtual catalog, trench coats in blue, cream or khaki can be paired alternately with a range of subdued suit colors such as blue, tan, grey and black.
Tests of Time
Colored pencil sketches of well-dressed men wearing trench coats with contrasting suits -- and fedoras -- date back at least as far as the 1940s. Shades like grey and tan don't clash as much as they complement each other. Similarly, blue and grey pair well. Grey and black work well together. So do black and tan. During his iconic film career, silver screen star Humphrey Bogart struck dramatic poses wearing khaki trench coats over grey suits, white dinner jackets and black tuxedos.
Utility
Trench coats -- especially those with detachable inner linings -- serve men well on extended business trips. One trench coat in a neutral shade such as black, grey or tan can be worn stylishly over suits in similar or contrasting color ranges and reduce the need to pack more than one coat. Whatever the shade, a trench coat can also be sharply worn over a dressed-down outfit featuring jeans, as long as the coat is trimly tailored.
Options
Time-tested trench coat brands such as Burberry, London Fog and Aquascutum still thrive even though their origins date back a century or more. In keeping with contemporary tastes, stalwarts in the trench coat industry offer color alternatives in stride with labels with more fashion-forward attitudes such as Calvin Klein, Balenciaga, Lanvin, and Billy Reid.