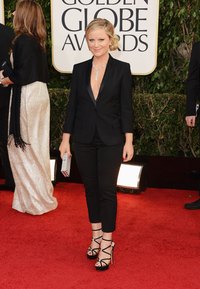 For women, wearing tuxedo pants usually signifies a black tie affair or a formal event where men will likely be in tuxedos or suits. The female version sometimes includes a tuxedo jacket but frequently pairs different kinds of tops with the masculine-style bottoms.
Types of Tuxedo Pants
Tuxedo pants have become a viable alternative to gala gowns for women attending fancy affairs. In recent years, tuxedo pants have become available in many styles including traditional, loose-fitting pants, slim and tailored pants and cropped or highly-stylized versions. Designers have taken to altering this menswear staple by adding a more feminine touch to it, whether in the material, the cut or the color of the pant.
Dressing Up Tuxedo Pants
For black tie or white tie events, a woman can dress up black tuxedo pants by wearing sparkly high heel shoes or strappy feminine high heel sandals. In addition, a crisp white feminine blouse or a sleeveless black fitted top tucked into the pants offers a clean and classic look. A blouse with ruffles or embellishments can make the outfit look fancier, as can wearing all black or adding a tuxedo jacket that matches the pants. A tuxedo jacket for women should be much more fitted than the men's version, which is looser.
Dressing Down Tuxedo Pants
For cocktail attire or even attire less formal than that, tuxedo pants and sparkly shoes can be worn with a sweater, a button-up shirt or even a T-shirt. The T-shirt should be a silk, rayon or cotton variety tucked into the pants. If worn with a sweater, fine or chunky knits work, but the sweater shouldn't be excessively baggy. A tucked in button-up shirt will make the pants look sophisticated and classic. A jacket isn't always required with tuxedo pants; in fact, sometimes it can be too rigid or dressy.
Adding Sparkle in Addition to Your Shoes
Wearing sparkly shoes is one way to accent your tuxedo pants. Adding some sparkle to your ears, neck and wrist is another way to draw attention to the fact that you're dressed for a formal affair. Simple diamond studs or drop earrings and a necklace with colorful stones or ones that match your shoes can bring the outfit together and make the ensemble look cohesive. Wearing fun cufflinks with a french cuffed shirt is another way women can accent their look while playing on typical men's attire.