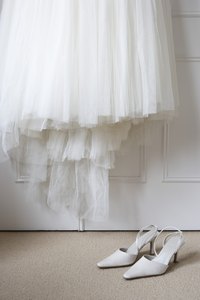 Weddings with Tiffany-blue themes are a big trend, as evidenced by the number of Pinterest boards dedicated to them. It's also in fashion for brides to choose colorful shoes to wear with a bridal gown. So, if Tiffany's iconic signature color, diamond rhinestones and pearls are part of your wedding decor, you may want to match your shoes to it.
Colored Shoes
After Carrie Bradshaw wore bright green shoes for her wedding to on-again-off-again love "Big" in the 2008 movie Sex and the City, many brides have forgone classic white pumps and opted for more colorful, statement-making options to wear with their gowns. While few brides have the funds to purchase a Vera Wang or other designer wedding gown, the event is "a once-in-lifetime chance to splurge on a pair of high-fashion heels," Cathy Schroeckenstein, editor-in-chief of the bridal blog Weddingbee, told "The New York Times." While a bride may wear a traditional white gown, a pair of brightly colored shoes is a way to make a more dramatic statement. And unlike the dress, the shoes can be worn to other events in the future.
Matching Shoes to Decor
Bridal shoe designer Aruna Seth told Brides magazine that it's a big trend to match shoes to decor, invitations and flowers. If you're going for the traditional white dress for your Tiffany blue-inspired wedding, it would be ideal to wear a pair of shoes in the same blue and embellished with diamond-inspired rhinestones or crystals as a nod to your Tiffany-inspired invitations, bridesmaids dresses, chair covers or other decor. The shoes would meet a bride's "something blue" criterion and could be worn again.
Other Considerations
Remember that no matter which shoes you wear, be sure to choose a pair you're comfortable in and that's not far removed from what you wear on a regular basis. For instance, if you live in flats, go for something a couple of inches high rather than a four-inch pair of killer heels. Remember to break your shoes in before the big day and bring along a pair of flats for later in the evening. Also, consider the venue: If your wedding is outdoors on grass, you may want to go with a thick heel or a wedge as opposed to a stiletto.
Where to Shop
Depending on your budget, you can shop for beautiful wedding shoes to match your Tiffany wedding at Target, Macy's or Neiman Marcus. But if you have something super-specific in mind, you can create your own custom pair at milkandhoneyshoes.com. Just choose a shoe style and enter information about heel height, color, material and embellishments.