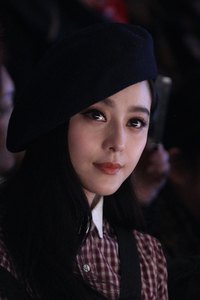 Your French beret that made you exclaim "ooh, la la!" upon eyeing it in a shop window brings a definitively Parisian flair to your wardrobe. However, finding a way to incorporate your new hat into your daily outfits without looking like you belong in a postcard image of a woman standing in front of the Eiffel Tower may cause hesitation when it comes to actually wearing it. Fortunately, your beret works well with a variety of looks, from classic to laid back.
Classic Prep
Go ahead and push the Parisian look for a polished, preppy vibe without going overboard by making it modern. Start with a navy-and-white, boxy, long-sleeve, cotton top tucked into a flounced white skirt. Pop your feet into a pair of black booties and add a black French beret. If it's cold outside, a cream-hued, double-breasted, three-quarter-length coat and a pair of dark gray tights will keep you cozy.
Boho Chic
Start with a navy French beret and build your outfit around the idea of a boho chic vibe. For hourglass and rectangle shapes, pull on a pair of bell-bottom jeans in a dark rinse. Go for straight-leg jeans for a flattering finish to apple- and pear-shaped body types. Pull on a fitted knit, elbow-sleeve top in a soft hue, such as pale gray or oatmeal. Add a bohemian edge with a boyfriend-style cardigan in a darker neutral like navy or deep amber. Add a pair of fringed booties or flats in a cognac brown hue, and you're chic and ready to go.
Ultra Feminine
If part of the imagery you associate with French hats is from the little girls in the Madeline books, styling around your beret calls for a nod to the preciousness associated with girly clothing. For this simple-to-accomplish look, start with a pair of black opaque tights and black over-the-knee suede boots to keep your look sophisticated and feminine. Pull on a short-sleeve dress with a cinched waist and Peter Pan collar. Finish your outfit with a beret for French chic appeal.
Urban Inspired
A French beret can add an interesting touch to an edgy, urban-inspired look. Skip the black or navy and look for a beret in a less conventional hue, such as deep purple, or find a pattern like black with tiny white dots. Pull on a black, chunky knit turtleneck sweater over a black leather miniskirt or skinny pants. Complete the ensemble with black shoes. Opt for pumps for a more sophisticated vibe or buckle-detailed moto-style boots for a rough-and-tumble aesthetic.