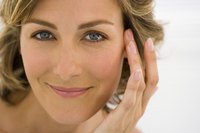 Rosacea is an inflammatory skin condition that mostly affects the face. Symptoms include redness, bumps or pimples, skin thickening and eye irritation. Visible blood vessels may also be present. Though there is no cure for rosacea, but treatments are available to minimize symptoms. One remedy that is widely used to alleviate symptoms is radio frequency, or RF, therapy.
What Is RF Treatment?
RF waves, or radio frequency waves, are a form of electromagnetic energy, similar to microwaves. The waves are aimed at the affected skin area, specifically at inflamed blood vessels. The veins become damaged by the heat of the waves and shrink. In extreme cases of rosacea, a more powerful beam is necessary. RF treatment is safe for skin and will not cause damage.
What to Expect During Treatment
Patients may need up to three sessions of RF treatment for symptoms to subside. Up to five treatments may be necessary for more severe cases. Treatments are typically done once every three weeks. Touch-up treatments may be needed later if symptoms return. The patient may feel slight tingling of the skin being treated during the session. Treatment can cause slight redness and small spots that look like mosquito bites which may be present for a few days after the visit.
When to Use RF Treatment
People who suffer from chronic rosacea may choose to use RF treatment right away. Others turn to this treatment when they do not respond to medical therapy, or if medical therapy no longer works for them. RF treatment is also an option for patients who choose to avoid using oral therapy. Topical therapy may also be used in conjunction with RF treatment.
Is It Effective?
According to a 2008 study published in The Journal of Clinical and Aesthetic Dermatology, combination treatment is more effective in treating rosacea than using RF alone. The treatment suggested is called electro-optical synergy, or ELOS, and combines pulse light or laser with bipolar RF. Patients' rosacea improved steadily three months after five treatments.