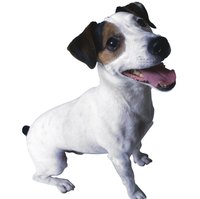 Jack Russell terriers are robust hunting dogs that are native to the United Kingdom. These smallish canines historically possessed fox hunting duties. Jack Russell terriers, as a breed, are big on digging, an activity that comes naturally for them. These popular companion pets are extremely lively, spry and energetic dogs.
Physical Characteristics
Jack Russell terriers tend to grow to between 10 and 15 inches in height, and they usually weigh between 12 and 18 pounds. Their coarse, wiry or soft double coats are diverse, from patterns to coloration, although they usually are white with some other elements -- think brown, black or beige. Other noteworthy physical traits of the breed are dark noses, broad feet, elevated tails and sinewy, somewhat squat limbs.
Temperament
Some temperament characteristics that are frequently associated with these pooches are courage, smarts, curiosity, stubbornness, devotion, docility and friendliness. In general, Jack Russell terriers do well in the company of both new people and older kids of at least 6 years in age. They may, however, run after cats and other types of small animals relentlessly. If a Jack Russell terrier is in the presence of a fellow dog, close monitoring is crucial, as they can sometimes behave fiercely to each other. Along with their penchant for digging, these speedy and nimble terriers are also often rather bark-happy and loud.
Physical Activity
Ample physical activity is a must for Jack Russell terriers -- zero exceptions. Because of this strong need for exercise, they may not be ideal for lifestyles either in small apartments or in urban settings. Not only do these canines require extended jogs or walks at least once a day, they also need sufficient room to be what they naturally are -- spirited doggies that love to run and let off steam. Without enough regular exercise, these little guys are sometimes prone to behavioral issues as a result of their pent-up vigor and enthusiasm.
Grooming
If a Jack Russell terrier's coat is coarse or wiry in texture, routine professional grooming and hand-stripping is essential. For those with softer fur, however, once-a-week brushing sessions to eliminate loose hairs should work well.
Life Expectancy
With proper care and veterinary attention, Jack Russell terriers can often lead happy lives for between 14 and 15 years. They occasionally are susceptible to certain medical ailments, including cataracts, deafness, mast cell tumors and kneecap and joint problems. In general, however, Jack Russell terriers are hardy animals.