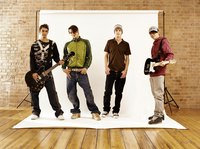 Teenage boys have busy lives -- school, work, sports and social activities take center stage and often put them in the spotlight. Because of this, it's important that guys dress appropriately for the occasion and the season. The key to looking good is knowing how clothes should fit, and pairing that sensibility with a good mix of classic and contemporary styles. By simply starting with the essentials and adding in a few trends, teenage boys can feel confident and secure in any situation.
Fundamentals First
Before thinking about mixing up your outfits, assess your closet for the basics. Teenagers should have a few crew and V-neck T-shirts, long-sleeved henley shirts and a couple pairs of well-fitted, dark jeans and pants, in addition to flat-front and cargo shorts. Add in a versatile jacket and a few cardigan or pullover sweaters. Once the basics are in place, add a suit, some plaid and solid-colored Oxford shirts, and a brown and black belt.
Layering Tactics
A quick way to change up your outfits is to layer your clothing. Layering keeps you warm in the winter, helps keep you comfortable in changing weather and adds interest to your outfit. For example, wear dark jeans with a plaid, collared shirt. Top it with a lightweight cardigan and a textured scarf. Or spruce up cargo shorts and a tee by adding a henley and a safari or jean jacket. The key to layering successfully is making sure your outer hems remain longer than your inner hems, notes The Art of Manliness.
Add in Some Trends
Your outfits can go from dull to dapper in a matter of seconds with the addition of trends. Choose trends wisely -- and only apply one or two at a time. If bright colors are trending, purchase accessories, such as a scarf, sunglasses, watch or shoes, in an eye-catching color that will pop any given outfit. If fedora hats are all the rage, purchase one that complements your face well and mix it into outfits ranging from casual to dressy.
Share Your Shoes
Allow your shoes to roam from outfit to outfit. Essential shoes include athletic tennis shoes, a canvas or skate sneaker with a thin sole, and a pair of soft leather or suede lace-up shoes. Additional seasonal shoes include a sturdy pair of flip flops, boat shoes, and black or brown boots. For a summer look, wear your chinos with sturdy leather sandals instead of canvas sneakers, and pair high-top sneakers, instead of canvas slip-ons, with shorts. Mix it up in the winter months by wearing boots instead of loafers.