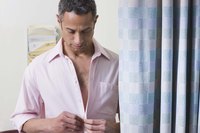 Even if you shouldn't judge a book by its cover, a person's perception of you is largely informed by your personal style. If you change your style, it can reflect different qualities about you, altering the way people perceive you -- and they may make snap judgments. The way that you dress can even change how you perceive yourself, demonstrating that your clothing carries influence you may not consciously recognize.
Professionalism
Changing your style of clothing can drastically alter whether people perceive you as professional in the workplace. For example, dressing too casually at your office can represent to people that you don't respect them, or that you don't take the job seriously enough. Alternatively, changing your style to something too dressy may make you seem pretentious or lacking in self-awareness. If you aren't taken seriously in the workplace, changing your style can change how people see and value you.
Class
People use your clothing as visual shorthand for your class, so changing your style can easily sway whether people perceive you as wealthy or not. Expensive brands and accessories communicate wealth, while less distinctive clothing does not. Whether you're middle class or living in luxury, people make assumptions based on your clothing -- a designer outfit may make strangers perceive you as upper class, even if it's the only one you own.
Self-Perception
Your style of clothing doesn't just affect how other people perceive you -- it affects how you perceive yourself. For example, in a 2012 study reported in the "New York Times," participants wearing a white "doctor's coat" were more attentive and thorough during tests than those wearing an identical "painter's coat." Certain styles are so influential that you perceive yourself and your job performance differently, based not on the intrinsic properties of the clothing but on the meaning ascribed to it.
Honesty
Because perceptions change based on your style of clothing, the best strategy for developing your style is to be true to yourself while choosing clothing appropriate to the situation. For example, dress up for work, but don't feel pressured to spend more than you can afford on expensive business attire -- confidence and professional commitment also effectively guide perceptions about your ability. Similarly, choose a style that doesn't betray your own likes and dislikes, because you will perceive yourself less favorably.