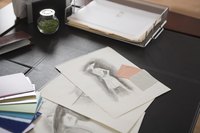 A fashion designer's philosophy is the gateway to the identity of his or her clothing line. It is this philosophy, when translated into a color or concept, that ultimately defines who the designer is and helps develop a signature look. Every collection begins with an idea derived from the designer's vision and revolves around a signature piece; the one look within the line that serves as the focal point to the designer's theme for that season. Without a design philosophy, designers' collections would display little cohesiveness.
On the Runway
When creating collections, designers need to consider the consumer. The structure of the garment is essential when developing the design for retail. For instance, one consumer may wear a maxi dress effortlessly, while another woman would look overwhelmed in such a statement gown. The original viewpoint may come from the designer, but when it comes to fine-tuning the details of the garments, a fashion designer must consider how the actual construction of the apparel can alter the original design philosophy. In considering the consumer, fabric choice certainly plays a role. The designer must ensure his or her vision is translated correctly into a tangible piece of work that everyone can wear.
Design Development
As a designer develops a clothing line, fabric consistency and fine detailing can change the overall collection. For instance, the same dress will have a completely different look when made of rayon than it would if constructed out of linen. A designer has his or her own vision for the collection, but also needs to push those boundaries in order to present a line that is fresh in the industry. In other words, each clothing line should not look the same as last season. This can be difficult, especially when trying to remain consistent with the original design philosophy.
Collaborative Collection
Designers often work in collaboration with each other. It is common among the fashion industry to admire each other's work, so collaborative collections are no surprise. Designers combine their own distinct philosophies to create items that truly stand out. For his Spring/Summer 2013 collection, fashion designer Jason Wu partnered with the lingerie company La Perla to produce a more seductive look for his line. As a result, two design houses contributed entirely different philosophies that complemented each other to present a sexy and feminine feel. It is important in these types of situations that the vision of both designers be cohesive, while remaining identifiable individually.
Signature Legacy
Every designer wants a legacy. Carolina Herrera is known for luxurious, elegant ball gowns, while Vera Wang will always be known for her iconic wedding collection. When creating a fashion line, a designer is considering many different factors, but with one thing in mind: a distinct vision, a philosophy. Design philosophy is crucial to the creativity and success of every fashion designer. It not only develops the overall look, it determines how the collection will translate over generations. Who the designer is -- and for whom she designs -- transfers from this philosophy to every garment that hits the catwalk.