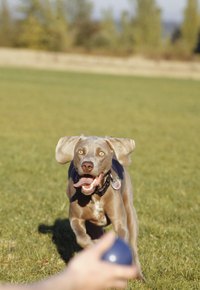 Digging is a natural activity for many dogs and provides great exercise. Unfortunately, your dog doesn't understand that the drip irrigation system is not a new toy in his dirt to uncover and discover. While stopping determined diggers may take time, patience and creativity, you can keep your hoses safe.
Provide Fresh Water
If your dog is not normally a digger but you notice he is digging in the area of the drip irrigation when you are running water, he could just be looking for a fresh drink. Make sure that you provide him with a bowl of fresh water at all times. Dump out old water, wash the bowl and replace with fresh water each time he goes outside for extended periods. This may be enough to end the destructive behavior.
Prevent Access
Depending on the location of your drip irrigation system, you may consider creating a dog-free zone with fencing or creative lawn furniture placement. Designate a specific area for your dog and let him know with a firm "no" when he enters an area off limits. If this is unsuccessful, try covering the drip lines and heads with chicken wire to prevent digging.
Keep Active
For some dogs, digging is their way of working off energy. If this is the case with your pooch, it may be time for a little interactive play. A good game of catch or tug-of-war can help wear him out while in the yard. Regular walks around the block or a local park will get him out and moving too. If he is tired from spending quality playtime with you, he won't have the energy left to dig. If he is going to be outside for extended periods, give him toys to keep him entertained. Consider soaking a rope toy in chicken or beef broth and giving it to him when you let him outside.
For the Determined Digger
Some dogs just love to dig and nothing will keep them from getting their paws dirty and digging for buried treasure. If you have your own canine pirate, make a digging treasure box just for him. A child's plastic pool makes a great doggy sandbox. Fill with dirt or sand and let your dog know this is his digging spot. To encourage digging in the sandbox, hide some tasty treats or bones at the bottom and let him sniff them out to find his treasure. Discipline him for digging in areas throughout the yard and praise him when he digs in his box. He will eventually learn that he has his spot and the drip lines are off limits.