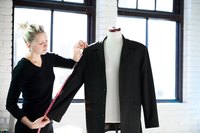 Men's blazers are classic and timeless pieces of clothing. They're versatile coverups, appropriate for many occasions. The blazer has a long history, but gained popularity in the late 1800s, when it was also referred to as a sport coat. Today, blazers are a unisex wardrobe staple that won't go out of style any time soon.
When to Wear a Blazer
Blazers can be worn to a variety of events, including weddings, cocktail parties, business formal meetings and casual dinners. The blazer is ideal when you aren't certain about appropriate attire for an occasion. It can be dressed up with slacks and a tie to resemble a suit coat or dressed down with jeans or even shorts and a polo-style shirt. Blazers offer structure and a conservative element to an outfit and are often considered a "preppy" staple.
A Classic Blazer
One of the most classic styles of blazers is a solid navy blue, made of twill, single-breasted and adorned with gold buttons. Wear a navy blue blazer formally or informally, depending on what you pair it with. Navy blue is a color that can be worn year-round, and a classic blazer comes in be wool, cotton, linen or flannel. Depending on the season, lightweight or heavier fabric may be more appropriate, although this generally doesn't change the style of the blazer, just the amount of warmth provided.
Embellishments
Blazers may come adorned with patches, pins and piping. Preparatory school blazers are often fashioned with a logo or patch on the chest. Clubs that require blazers or sport coats may affix a signature pin to the chest. Blazers with contrasting piping are usually a stylistic choice that designers place on their garments to denote them as their own.
Keeping a Blazer In Style
The most classic blazers are simple and nondescript. They can be worn interchangeably with different pants, shirts, ties and shoes without clashing or looking tired. Blazers that won't go out of style are well-made, and usually in a solid color, such as black, navy or gray. Gray tweed, even with a slight striping or plaid pattern, can still be versatile and last for a lifetime. A white linen blazer, however, is worn on a more limited basis and should be reserved for the summer months and less formal occasions.