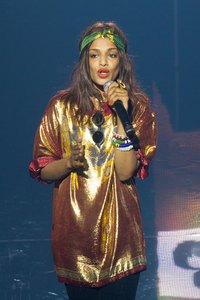 Back in the 1980s, a handful of elements signified hip hop style: Adidas suits, big gold chains, Kangol bucket hats, Cazal specs. The scene today is much more fashionably diverse, and there is no longer a definitive hip hop style. This is especially true for women. While many of the top lady rappers have a high interest in fashion, a signature look is more important than what the designers are showing on the catwalks.
Remixing It Up
The essence of women's hip hop style is that it mixes a variety of elements and influences that when combined, create a seamlessly unique look. High-end designer labels meet up with street wear and athletic brands. Semi-formal attire is worn with basketball shoes. Menswear and women's fashion flawlessly intermingle, while futuristic silhouettes are often paired with ball caps and track jackets, pieces that harken to the past. It's all about the combination of high and low, past and present elements.

Kicking it Old School
Rappers like Missy Elliott borrow from the boys by wearing retro tracksuits, Adidas sneakers and Kangol caps, just as Run-D.M.C., LL Cool J and the Beastie Boys did in the 1980s. The lady hip hop artists of that era are also proving influential. The door knocker earrings, color block bomber jackets and spandex leggings worn by Salt-n-Pepa and J.J. Fad are part of today's hip hop style.
Color Coded
Bold colors and a deft mix of prints have always had a place in hip hop fashion. In the '90s, Queen Latifah's signature ensembles were brightly hued, and mixed African-inspired elements with the streetwear of the era. M.I.A.'s colorful, eclectic style references both neon raver style and her Sri Lankan roots. Then there's Nicki Minaj, who never met a color she didn't love. From the top of her candy-colored wigs to the bottom of her platform heels, Minaj's outrageous outfits have become as important to her persona as her music.

Too Sexy
While the fashion of lady rappers in the 1980s was somewhat modest, showing some skin started to become more popular in the late '90s. Artists Foxy Brown and Lil' Kim emerged in tiny short shorts, bikini tops and curve-hugging dresses. TLC traded in the baggy pants and tees of their earlier years for midriff-baring cropped tops that showed off their toned abs. Today, young artists like Azealia Banks are following in their footsteps by sporting sexy bustiers with hot pants and stiletto heels.