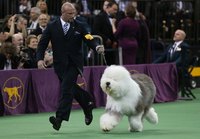 If you're registering your dog with the American Kennel Club, you not only have to come up with an everyday name, but a registered name as well. Registered names are used to uniquely identify dogs that might have the same call name, and are printed on official AKC records and catalogs if the dog is entered in AKC events.
AKC Requirements
The American Kennel Club sets specific rules for naming dogs in their registry. Names may contain only 36 letters and spaces, although for an extra fee you can use up to 50 letters and spaces. The AKC allows up to 37 dogs within a breed to have the same registered name; Roman numerals are added at the end of the names to distinguish the dogs. Certain words and phrases are disallowed, including breed names and AKC titles or show terms.
Breeder Conventions
If you purchased your puppy from a responsible breeder, they most likely have a kennel name they use for their dogs. It is customary to use the breeder's kennel name in your puppy's registered name, and some contracts require it. A breeder may also have a theme for the litter that you must follow, or a list of names from which you may choose. Some breeders have registered their kennel names with the AKC; in that case, you cannot use the kennel name in your puppy's registered name unless you have the breeder's permission to do so.
Parents' Names
You might choose a registered name that reflects the dog's parents. A puppy whose father was named "Man on Fire" and whose mother was "Diamond Ring" could be "Ring of Fire." If both parents' names don't work well together, you could play off of just one of them. A sire named "Dust Buster" might have a puppy named "Dust Mite," or a dam named "Wait and See" could have a puppy named "Anticipation."
Call Name
A dog's call name, or his everyday name, does not have to be related to his registered name. Some people like to tie the two together, though, and it can be a fun way to come up with names. A dog named "Chanel No. 5" would be called Coco, while a dog called Duke could be named "True Grit." There's room for subtlety in naming dogs, too; you could name your dog "Here's Looking at You" and call him "Kid," for example.
Your Favorites
Also consider some of your favorite activities, foods, drinks or movies that might work well for a dog name. A sailor might name a dog "Rip Tide" while a movie buff might use "Silver Screen." If you're a scotch aficionado, "Eighty Proof" might make sense, while the cola lover might choose "The Real Thing." Let your imagination run wild and choose a name that fits your dog and your own sense of fun. The AKC website has a name look-up function so you can check to see if your chosen name is available for your breed of dog, before you submit your registration.