All soccer players want to be faster and kick farther with control. You can get there by strength training your legs and doing soccer drills for power. You need leg power in soccer for kicking the ball hard, running and dribbling fast, and changing directions quickly in a soccer game. You can get it by performing various exercises that target the muscles you use most on the field.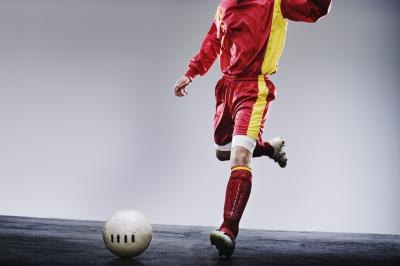 (Jupiterimages/Brand X Pictures/Getty Images)
Power drills are essential to build leg strength. Hop on one leg in place as high as you can. This is a good warm-up drill for activating your explosive muscles. Remember to do both legs. For this power drill, get a partner. Player A runs around the field and Player B tries to keep his hand on Player A's shoulder as Player A tries to shake it off. Do this drill for two minutes and then switch roles.
Squats will give your soccer game a power boost, too. To do single leg squats, squat as you normally would, but with one foot lifted to your buttocks. By isolating each leg, you're able to focus on each leg's power and improve balance. Do regular squats with your feet wider than shoulder-width apart, but hold a barbell or dumbbells for extra resistance. Squat jumps will give you power -- and an exhausting workout. Bend into a regular squat, then jump off the ground as high as you can. Repeat as soon as you land. No matter what type of squat you do, it's important to keep your spine straight and shoulders back and down.
Strength training exercises for the lower body are also important for powering up your soccer game. At the gym, do the leg press, barbell lunge, side lunge, leg extensions for your glutes and quads. Do hamstring curls and calf raises for the backs of your legs. Make sure you maintain a good balance of strength between different muscle groups for maximal speed and power and to avoid injury.
Soccer players often develop stronger quads than hamstrings, which can slow them down and cause injury. Do strength training at the gym to detect and fix any muscle imbalances you have. Warm up before each workout and cool down and stretch at the end to prevent tightness and injury and to promote faster recovery.
Promoted By Zergnet