People who lift weights often incorporate the bench press into their routine, as it works many of the upper-body muscles. The focus of this exercise is to increase the size and strength of your pectoral muscles, but it also works your triceps, anterior deltoids and the muscles of your forearm. Your forearms work to keep your wrists stable and your grip tight while you move the barbell.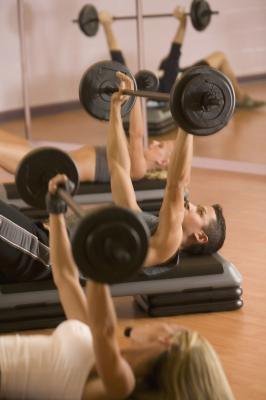 (Comstock Images/Comstock/Getty Images)
Not a lot of equipment is needed to perform a bench press. All you need is a bench, a barbell, weight plates and proper form. The position of your body, arms and feet drastically change the way the exercise works your muscles. As you pull the weight-loaded barbell off the bench rack, your forearm muscles jump into action. They keep your wrists locked in position and keep your hands tightly gripped to the barbell. The tension needed to keep your wrists straight and stable does not end until you place the barbell back into the rack.
The constant movement required of the forearm muscles to keep your wrists and hands rigid increases their strength, but not as much as your chest muscles. Over time, bench pressing alone will slightly increase the strength and size of your forearms, but it never hurts to add forearm exercises to your workout routine. Stronger forearm muscles will increase both your safety when performing a bench press and your performance on the weight bench.
Numerous exercises target the muscles of your forearm. These include forearm handles, wrist curls and wrist rollers. You cannot select just one exercise, as your forearms contain many different muscles. Each muscle has a specific function in the stability of your wrists and the strength of your grip. It is best to add a series of exercises to your workout routine to ensure you gain strength in all of your forearm muscles.
Without a strong grip, you would lose control of the barbell. This could lead to extensive damage to your body or even death. The same forearm exercises that increase the stability of your wrists also increase the strength of your grip. Even with additional strength, you need to grip the bar correctly to ensure you use your forearms during the bench press. This means using a regular grip, which means your fingers and thumb wrap the barbell. This gives you the most forearm benefit when performing the exercise.
Promoted By Zergnet