Anyone can benefit from exercise, no matter what their age. However, it's much easier to exercise into old age if you have built a lifelong fitness foundation that started at a young age -- not to mention the many health benefits that accrue during a lifetime of regular exercise. The issue regarding when it's safe for children to begin exercising has been hotly debated for years. However, old beliefs that various forms of exercise are harmful to kids is being replaced with new research that proves otherwise. When conducted in a progressive manner and with awareness of the special needs of youth, it is healthy -- even recommended -- to start exercising at an early age.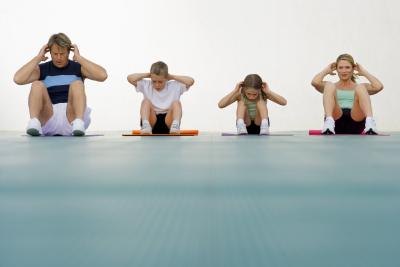 (Polka Dot Images/Polka Dot/Getty Images)
Before determining an appropriate level of exercise for a child, it's important to understand that children may not be the same biologic or emotional ages, although they share the same chronological age. Sports participation and training for athletic competition often starts as early as age 6, but it's not possible to make an absolute statement of when a child is old enough to begin exercise. Children are not little adults, and their physiology is not the same as an adult's. To determine the safest fitness prescription for your child, consult with his pediatrician.
According to the National Academy of Sports Medicine, youth may be able to excel in endurance activities because their VO2 peak, the maximum amount of oxygen their bodies are able to uptake and use, is similar to that of adults when adjusted for body weight. However, they are not able to perform high-intensity endurance exercises as efficiently because they have fewer glycolytic enzymes to convert glycogen into usable energy. Children are more sensitive to environmental heat because they sweat at lower rates and do not have fully developed thermoregulatory systems, so observe caution when children are exercising in hot environments.
Although youth resistance training has been hotly contested because muscles and bones are still in various stages of formation, a major 2010 review published in "Pediatrics" suggests that these concerns aren't warranted. The review analyzed over 60 years of research related to youth and weight training, and found that children benefit from the exercise. Regardless of age, youth who participated in resistance training at least twice a week exhibited strength gains. Consistency was a major factor in training results, as would be expected.
Children do not usually add muscular bulk as adults do; however, they do gain strength. Researchers believe that this may be because their neuromuscular systems become more efficient, causing greater motor unit recruitment upon muscle contraction.
Team sports can help children build a fitness base at an early age while learning the values of sportsmanship and dedication. However, it's important to keep sports training within the physical limits of a child, based on her individual biological development. It is also critical to focus on fun and fitness without overemphasizing the need to "win" to help children maintain a healthy sense of self.
Promoted By Zergnet