When you get a physical, it's likely your doctor will order a lipid panel to measure your blood cholesterol and triglyceride levels. Lipids are non-water soluble compounds, such as fats and cholesterol. High levels of total cholesterol and triglycerides and low levels of HDL cholesterol are a risk factor for cardiovascular disease. Regular endurance exercise can help improve your lipid levels.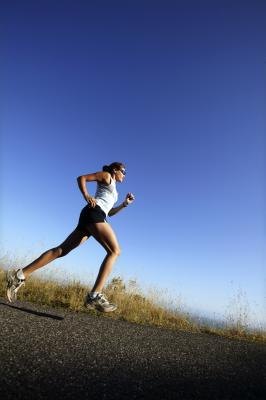 (Jupiterimages/Comstock/Getty Images)
Because cholesterol is not water soluble, it must be transported through the bloodstream attached to particles called lipoproteins. The primary beneficial effect of endurance exercise on lipids is an increase in levels of high-density lipoproteins. HDL is often referred to as "good cholesterol," because higher levels of HDL reduce your risk of heart disease and stroke. In addition, endurance exercise results in a slight lowering of total cholesterol, which also reduces your risk of cardiovascular disease.
Elevated blood levels of triglycerides, a form of fat, increase your risk of heart disease and stroke. Regular endurance exercise lowers blood triglyceride levels, decreasing your chance of cardiovascular disease. Aerobic training also improves fat metabolism. Fats are released more easily from storage in your adipose tissue in the form of free fatty acids. They are metabolized more effectively by your muscle cells and provide a greater proportion of the energy used by your muscles during a workout.
The beneficial changes in lipid levels that occur with endurance exercise are temporary, lasting only about 24 to 48 hours after a workout. To maintain the improvements, you need to exercise regularly, although after about nine months to a year of consistent training, the changes will become more long-lasting. To improve lipid levels, exercise must also be of sufficient volume. It typically requires at least 30 minutes per day of light to moderate aerobic exercise to see improvements.
To reduce your risk of cardiovascular disease, the American College of Sports Medicine recommends getting 30 to 60 minutes of moderate aerobic exercise at least five days per week, or 20 to 60 minutes of vigorous exercise three or more days per week. You can mix moderate and vigorous workouts throughout the week, or break up your workouts into bouts of as little as 10 minutes, as long as you accumulate the recommended total number of minutes.
Exercise Physiology for Health, Fitness and Performance; Sharon A. Plowman and Denise L. Smith
Promoted By Zergnet