One of the most common questions when it comes to weight training is "how much should I lift?" While that is an excellent and necessary question, there is no easy, uniform answer. There is no set starting weight for any concentric weight-training exercise, and the key to finding out how much weight to lift during any exercise, stiff-leg deadlifts for example, is to determine your one-rep max through careful trial and error. Determining your one-rep max is crucial, because it's not only your starting point, it becomes your baseline for tracking your progress. Your one-rep max will rise as you progress and grow stronger. The weight you lift allows you to quantify your success thoroughly and accurately.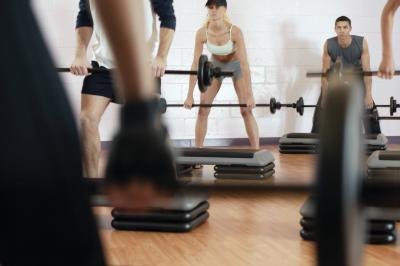 (Comstock/Comstock/Getty Images)
The stiff-leg deadlift is a modified version of a standard deadlift. The stiff leg version focuses the stress of the lift on the lower back, core muscles and quads. This is compared to a standard deadlift that works the latissimus dorsi, trapezius, deltoids and hamstrings. Both versions are powerlifting moves that benefit from either a standard set structure or a progressive pyramid-set routine. The stiff-leg deadlift uses an Olympic barbell, and is best performed on a padded rubber training mat.
The key to finding how much weight you can lift for any exercise is determining your one-rep max. The one-rep max is the maximum amount of weight you can lift for a particular exercise for one complete rep without being able to complete a second. Although logic would dictate that you could just load up the bar and try to actually max out, this isn't recommended. For most exercises, it's advisable to only lift about 95 percent of your one-rep max. When trying to determine that number for the stiff-leg deadlift, your trial and error will require adding weight to the bar and completing sets of three reps. Continue adding weight until you can only complete the first two reps without being able to finish the set. Be aware that the stiff-leg deadlift is a particularly taxing exercise, so perform your trial reps independent of other exercises, and give yourself several minutes of rest in between sets. If you've never done a stiff-leg deadlift, practice the form with an unloaded barbell before you engage in your test reps.
Once you determine your one-rep max for the stiff leg deadlift, you'll be able to set up your workout routine, knowing exactly how much to lift for each portion of a standard or pyramid set. For standard sets, do 10 warm-up deadlifts using the stiff-leg form at 60 percent of your one-rep max, then do three or four sets of 10 reps at 85 to 90 percent of your max. For pyramid sets, do your 10-rep warm-up at 60 percent, then a set of six stiff-leg deadlifts at 85 percent. Load the bar to 90 percent and do four reps. Load the bar to 95 percent and do two reps, then decrease the weight to 90 percent and do four reps again. Finish with a set of six reps at 85 percent. Rest in between deadlift sets for no more than 60 seconds.
Stiff-leg squats concentrate the energy of each rep on the lower back. The motion is an advanced, modified version of a powerlifting exercise, and you shouldn't attempt it until you've developed a basic familiarity with standard deadlifts to develop your lower back, quads and core. Because it's an intensive motion, it's best used as a heavy-weight, low-repetition lift for building strength rather than endurance.
Promoted By Zergnet