Exercising your oblique muscles can help slim down your waistline when combined with regular cardio, strength training,and a healthy diet. If you want to effectively shrink your waistline, spot training your obliques alone will not do it. According to the American Council on Exercise, spot reduction is a myth that at one time was widely believed but has since been disproved with research. By all means, keep doing those exercises that work your obliques, but make sure you also incorporate a full-spectrum workout routine and follow a healthy diet.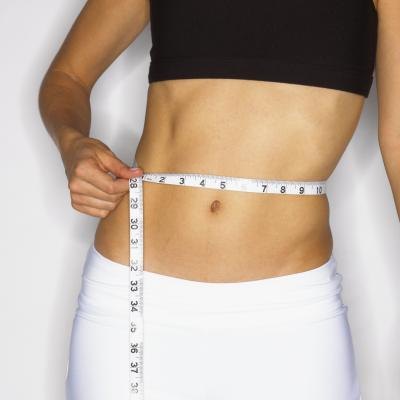 (Brand X Pictures/Brand X Pictures/Getty Images)
The oblique muscles, sometimes known as the side abdominals, are engaged when you bend to the side or twist your waist. There are many exercises that target the obliques, one of the most common being the waist-twisting oblique crunch. Some others you can try are standing side bends with or without weights; side-lying V exercises, in which you lift your leg or legs simultaneously with your upper body; the side plank and using the waist-twisting machines at the gym. For the best results, do two to three sets of as many repetitions as possible. Be sure to warm up with 10 to 15 minutes of cardio and some stretching before exercising your abs.
For health benefits, the Centers for Disease Control and Prevention recommends that you get at least 150 minutes a week of moderate-intensity cardio and two sessions of strength-training hitting all of your major muscle groups. If your goal is to shed stubborn belly fat, you should double that amount of cardio or up your intensity to a vigorous level for the same time frame and do strength training three to four times a week, being sure to not work the same muscle group two days in a row. Your oblique exercises are counted as strength training, but remember to also work your legs, arms, upper body and back.
Eating a healthy diet is essential for shedding inches. Use portion control; eating more small-sized meals as opposed to fewer supersize meals will up your metabolism and help you to burn calories more effectively. Eat lean proteins and complex carbs like whole grains, fruit and veggies. Avoid simple carbs such as foods containing refined flour or sugar. Stay away from "bad" fats like margarine and butter, and replace them with "good fats" like olive and canola oil. Following these simple guidelines can help you lose weight and also confer other important health benefits.
Slimming your waist is a healthy endeavor. There are two kinds of fat that you carry in your abdomen -- visceral fat, which accumulates around your organs, and subcutaneous fat, which is right under your skin. Losing excess visceral fat can reduce your risk for serious health issues such as cardiovascular disease, Type 2 diabetes, breast cancer and gallbladder malfunction. Subcutaneous fat is more of a challenge to lose than visceral fat, but having too much of it carries fewer health risks.
Promoted By Zergnet