Resistance bands are a portable and effective alternative to free weights and machines for strength training. As you stretch the elastic material, you experience resistance that builds muscle and strength. Doing straightforward strength-training moves with the bands can help improve your muscular strength and endurance. The bands may even offer an advantage for some people over traditional weights because they enable you to work in multiple directions.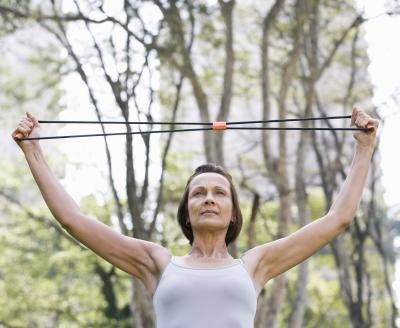 (Jupiterimages/Creatas/Getty Images)
Resistance bands are long tubes with handles on each end; you may see them in the gym or sporting goods stores. You can also find them as long strips of latex that can be cut to the length you desire for your specific training. The bands can also be shaped into a figure eight or a circle. The tubes come in different levels of resistance, so you can start with one that matches your current fitness level and progress to stiffer resistance as you grow stronger.
You can work every major muscle group using resistance tubing. Hook the tubing around a stable, low object and pull each handle to do rows for the back. Loop the tubing behind your back and press forward to work the chest. Stand on the center of the tubing and curl the handles to your shoulders for your biceps. Continue to stand on the tubing and press the tubing overhead for your shoulders. Hook the tubing at the top of a door frame using a special attachment to perform triceps press downs. Stand on the tubing and pull the handles to your shoulders to add resistance to squats. Use a circular-shaped resistance band looped around your thighs to step side to side and work your outer thighs and hips.
Resistance bands can offer enough resistance if you are looking to maintain health, build stamina, encourage better bone density and improve daily function. Older exercisers and people who have trouble lifting dumbbells or barbells may find resistance bands a preferable alternative. If you want to build serious muscle mass, however, resistance bands are not your best option because they cannot provide the same load as iron weights.
You should perform strength-training exercises with resistance bands at least twice per week on nonconsecutive days. Aim for at least one set of about 20 repetitions of an exercise for each major muscle group. Select a band that provides enough resistance to make the exercises hard to complete by the last couple of repetitions.
Promoted By Zergnet