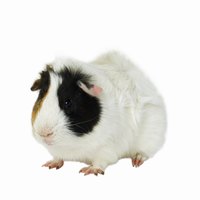 Many times a guinea pig will use only one area of his habitat as a bathroom. If your little cavy is one of those fastidious rodents who "go" mostly in one corner of the cage, you'll be happy to know that his instinctive actions make him an ideal candidate for litter box training. You can't use regular cat litter for your guinea pig's litter box, so you'll need to find an alternative litter box filler.
Why Not Cat Litter?
Cat litter is effective in Kitty's litter box, but there is more than one reason not to use it in Harry's box. First, many cat litters are formulated with chemical odor controllers that can be harmful to your guinea pig. Second, Harry is likely to nibble on anything and everything in his cage, and he won't be able to digest cat litter if he swallows it. This is even true of litters that are made from organic materials like corncobs. And if you attempt to use a clumping-style litter, it will glue itself to Harry's fur when it becomes wet.
Hay
It's not your typical litter box filler, but hay is a good choice for Harry's litter box. It isn't tremendously absorbent, but it will soak up a bit of moisture. The bonus is that if your guinea pig decides to snack on the hay from his litter box, as uncouth as it may be, at least it won't be toxic or dangerous to him.
Paper
For an unscented, dust-free and absorbent litter, paper is a favorable choice for your guinea pig's litter box. You can use shredded bits of newspaper or paper towel, or opt for a commercially produced paper litter made to be super-absorbent while being gentle and safe for your little rodent.
Guinea Pig Litter
Don't be swift to disregard litter made especially for guinea pigs and other small animals. It isn't just a marketing ploy; these litters are made from kiln-dried wood shavings that are safe for guinea pigs, like aspen, fir and spruce. Once the bits of wood are dried, they're compressed into the finished product. It should be noted that some specialized guinea pig litters use pine fibers, a type of wood that can trigger problems for guinea pigs because of the natural pine oils. The kiln drying process will reduce the amount of pine oil, but it can still remain in amounts sufficient to bother Harry. If you want to use a kiln-dried wood litter for your guinea pig, look for those that don't contain pine.