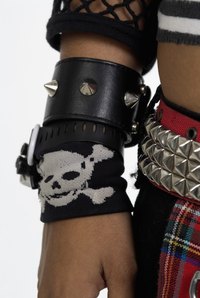 The British are known for their fearless fashion sense, and British teens often strive to express their individuality with trendy and edgy styles. British teens are not afraid to mix prints and patterns, and while they put an effort into dressing well, the key to British style is actually looking effortless, edgy and fashion-forward.
Fashion Industry Influence
Fashion week is a month-long event that takes place in four major cities each season, including London. Many famous designers are based in London, and this creates a community of creative inspiration and collaboration. Britain is home to some of the world's most famous fashion designers, including Alexander McQueen, Stella McCartney and Vivienne Westwood. Because of this, teens living in Britain are exposed to creative and fashionable influences early on, and they are known for not shying away from edgy and fashionable attire.
Climate and Weather
British teens have to consider more than fashion for fashion's sake when crafting their personal style, as Britain is known for having varied and sometimes unpredictable weather. Unlike teens living in warmer countries, British teens must learn to express their style through looks that can endure rain and shine. Many British teens incorporate layering into their style, and they often wear leather jackets, blazers, and scarves. For rainy weather, rain coats, trench coats, or rain boots are must have garments. British teens frequently wear pieces that can be styled for both warm weather and cold weather. For example, a floral top can be worn with ripped denim jeans during summer and can be layered with a blazer, tights and boot when rain or cold weather arrives.
Influence of Punk Fashion
Punk music plays an important role in influencing British fashion, especially among teens. When the punk movement began in the 1970's, British teens were especially eager to take up the daring and outrageous styles that it promoted. The punk aesthetic has endured in Britain and still influences style there, today, where teens seek to take up the timeless rebellious look. Key punk fashion items include drainpipe jeans, tartan trousers, kilts and leather jackets. Garments decorated with pins, buttons, spikes or metal studs are also part of the punk aesthetic. Not all British teens dress in head-to-toe punk looks, but even more conservative British teens incorporate studded bracelets or leather jackets into their style.
Music Festival Fashion
Music festivals are an important part of British teen life, and music festival attire can be worn year-round. Braids, floral prairie dresses and distressed denim make up the laid-back festival look. British teens who want to adopt music festival style seek to never look too put-together. Music festival style is about having messy hair, light or imperfect makeup and hippie jewelry and accessories. British teens like to mix unexpected patterns and textures for a free-spirited and effortless look.
Hip-Hop Culture
Hip-hop music is a recent but enduring influence on teen Brit style. Hip-hop reached its peak in the mid-1980's, and it resurfaced in the early 21st century. British teens who like hip-hop often dress to match the music, and they wear baggy clothes, streetwear and leather garmets.