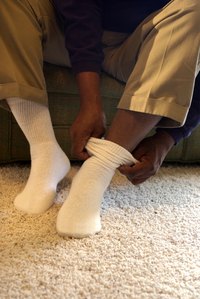 There's a near-infinite number of ways a man can mess up a look. The more adventurous fashion victims are always looking for ways to be unique, often to their detriment. However, men's fashion doesn't need to be complex. By following tried-and-true rules for wearing clothes and accessorizing, any man can look timeless, classy and appropriate in any setting.
Fit
Men need to understand their body type. The traditional approach is to wear something that's comfortable, even if the fit is slouchy or ill-fitting. Classic examples of choosing comfort over fit are boxy suit jackets, pants with bunching cuffs or shirt tails that blouse excessively over the waist. Wearing fitted, but not tight, pants and shirts instantly makes even slightly overweight men look sleeker, more modern and shows they pay attention to the details.
Matching Leather
Arguably the most common error made by many men is not paying attention to the relationship between belt and shoe color. As a rule, brown shoes must be worn with a brown belt and black with black. However, as long as the brown tones are similar, they do not have to be identical in order to work. For example, cordovan loafers should be worn with, at least, a dark brown belt, but never black or tan. Taking things a step further, style-conscious men might even swap leather watch straps to match the other leather in the ensemble.
Wardrobe Staples
Every man's wardrobe should have a series of timeless pieces to fall back on that may be worn in almost any scenario. These items are perfect for those parties and events where the dress code is somewhat vague, or they can be worn when simply kicking back watching the game. Included in this category are navy blazers, fitted khakis, dark denim jeans and a few oxford-cloth button-down shirts. A charcoal or navy suit is often the only one a man needs, especially if one isn't worn to the office every day.
Avoid Trends
The key to looking good and ensuring everything in the closet stays modern is to stay classic. Avoiding ostentation is one good way to do this. This includes, by the way, excessive jewelry such as necklaces, right-hand rings and 60 millimeter watches. Solids and neutral colors in white, black and charcoal are solid choices, no matter the clothing category. Avoid clothes with sequins or complex embroidered designs and square-toed shoes.
Formal Dress
Unbeknownst to most men, there's a little leeway involved with formal or black tie occasions. For example, opting for a midnight tuxedo, as opposed to black, not only looks richer in low light, but it also avoids the rented look. As with any truly formal dress, highly-polished black shoes are not optional. White tie occasions, however, must feature white vest, tie and shirt. This is worn typically with tails and black polished shoes. White tie events should not be used by men to express their own "personal style." Instead, view the attire as a virtual uniform to avoid errors.