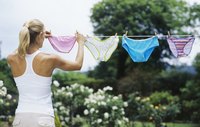 Unfortunately, because it is not hygienic to try panties on before you buy them, you will have to rely on trial and error to find a style that makes you feel, both, comfortable and confident. Investing in a variety of cuts and colors will ensure that you have a pair to match every mood and enough clean underwear to get you through to your next laundry day.
Cut
There are five basic "cuts," or styles, of women's underwear. The bikini looks much like its swimwear namesake. It is typically low cut but offers a moderate degree of coverage in the front and back. High-wasted briefs come up over the wearer's navel and may offer some shaping in the tummy region. Hipster briefs reach the crest of the hip bone and offer more coverage than the bikini. Thongs offer the least amount of coverage, with a small band going between the wearers' buttocks. Boy shorts rise as high as the hipster brief with additional coverage of the upper thighs.
Material
Cotton is one of the most common materials used to make panties because its thin fibers allow oxygen to flow through to the vagina, preventing the growth of bacteria that cause yeast infections. Alternative fabrics include silk, satin, lace, polyester and nylon. Microfiber is used to create "no show" panties because it is an extremely fine fabric, which can sit close to the skin, but still allow for air circulation.
Size
Though sizing charts my vary according to brand, you can follow a simple formula to find the underwear size most appropriate for your shape. Measure yourself at your hips. If you measure 36 inches, you wear a small. If you measure 38 inches, you are a medium. If your hips measure 40 inches, you should look for a large. A measurement of 42 inches indicates an extra-large. If you get an odd number, round up to the next even number.
Cleaning and Care
The best way to care for your panties is to wash them by hand. This is especially true if they are made from lace or some other delicate fabric. However, they can be washed by machine on the delicate cycle in cold or warm water. Panties should be line dried to avoid shrinkage.